Do you know what Uselessfiles Ransomware is?
Uselessfiles Ransomware is a new malicious application that has been designed by cyber criminals for malicious deeds. To be more specific, they use it as a tool to obtain money from users quicker. They know that users will not let go of their money easily, so they have developed an application to encrypt users' personal files. Crooks expect that the majority of victims will agree to pay money in exchange for the tool that can unlock files, and, in fact, a bunch of users make a payment as instructed. Do not be one of them if you have encountered Uselessfiles Ransomware and discovered almost all your files locked because you do not know whether you could really unlock them after sending your $300. The ransomware infection will not remove itself from your computer too. Also, your disabled Task Manager will not be fixed. What you should do instead of transferring money to crooks is getting rid of the ransomware infection right away. Do not expect to find its uninstaller in Control Panel because you will just waste your time – it is not there. You will disable the ransomware infection only by removing its files and deleting its Value from the Run registry key. Then, you will need to enable your disabled Task Manager.
We have to admit that Uselessfiles Ransomware did not encrypt a single personal file during research. There is a possibility that it was still in development at that time, but you should check your files too even if you see an image claiming that your files have been encrypted set as your Desktop background – there is a possibility that your files have not been ruined. If it has turned out that the ransomware infection has affected them, i.e. you have found them all encrypted, you should still not pay money for their decryption. Instead, restoring files from a backup is what we recommend for all the users. Uselessfiles Ransomware demands money in Bitcoin only. Users have to send $300 worth of Bitcoin to the Bitcoin wallet indicated at the bottom of the image. You have no guarantees that your files will be unlocked. There is a huge possibility to be left both without money and files, so are you sure you want to take that risk? Additionally, as mentioned in the previous paragraph of this report, the ransomware infection will not be removed from your PC no matter you pay money or not, and modifications made by this threat will not be undone too.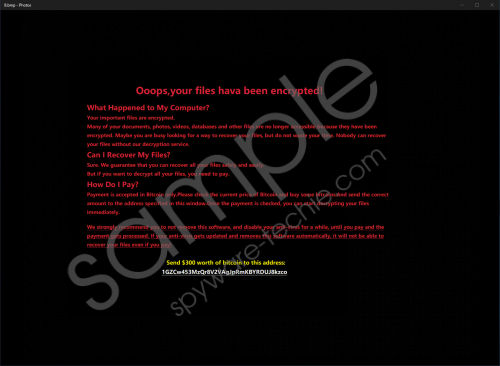 Uselessfiles Ransomware screenshot
Scroll down for full removal instructions
Users usually cannot explain how ransomware infections enter their computers, but all users sooner or later find out about the successful entrance of the malicious application categorized as crypto-malware because they notice that their files are inaccessible, and, additionally, there is a picture with a message set on Desktop. In some cases, ransomware infections drop separate files with instructions. Where do ransomware infections come from? That is a good question. Specialists say that these infections are usually spread as attachments in spam emails. Uselessfiles Ransomware is no exception. Also, users should not download any software from dubious websites because they might install harmful malware instead of, for example, a tool for editing photos. Last but not least, it is not advisable to click on random links because they might redirect straight to malicious pages that promote malware and try to install it on users' computers.
You must remove Uselessfiles Ransomware from your system even if this does not mean that your files will be unlocked. You need to remove the UselessFiles folder from C:\, and .vbs and .bat files from %TEMP%. Additionally, if you do not want the ransomware infection to have a chance to revive, you must delete its entry from the Run registry key (HKEY_LOCAL_MACHINE\SOFTWARE\WOW6432Node\Microsoft\Windows\CurrentVersion\Run). As you already know, you will need to fix Task Manager yourself too. If you decide to delete Uselessfiles Ransomware with a powerful antimalware scanner, this system utility will be enabled for you automatically.
Delete Uselessfiles Ransomware
Remove the ransomware infection
Open Windows Explorer (tap Win+E) and access C:\Windows.
Remove the UselessFiles folder.
Go to %TEMP%.
Delete getadmin.vbs and .bat files.
Close Explorer and press Win+R to launch Run.
Type regedit and click OK.
Move to HKEY_LOCAL_MACHINE\SOFTWARE\WOW6432Node\Microsoft\Windows\CurrentVersion\Run.
Locate the UselessFiles1 Value, right-click it, and select Delete.
Set new Wallpaper.
Empty Recycle bin.
Enable Task Manager
Press Win+R.
Type regedit and then press Enter.
Navigate to HKEY_CURRENT_USER\Software\Microsoft\ Windows\ Current Version\Policies\System.
Locate the DisableTaskMgr Value.
Double-click it.
Enter 0 in its Value data and click OK.
Restart your computer.
In non-techie terms:
Uselessfiles Ransomware is a malicious application that might turn your life into a nightmare because it has been developed to encrypt users' personal files. Ransomware infections are used by cyber criminals as tools to obtain money from users easier, so they all lock screens, lock files, or perform other malicious activities. Sending money to crooks is not an option so you should not even consider making a payment. No matter what you decide, do not forget to remove the ransomware infection.