Do you know what UnknownFile is?
UnknownFile is a potentially unwanted program that might result in numerous commercial third-party advertisements on your web browser. Is it best that you remove this tool, because it might possess characteristics that are typical to adware, including all the related security risks. Regardless of the promise to identify all the unknown file formats that your system fails to recognize, UnknownFile might turn into a large problem if you hesitate to acknowledge its unreliability. What's more, it has been noticed that this program is not even fully functional. There have been many cases when it failed to help to recognize and launch the files that were not recognized by respective systems.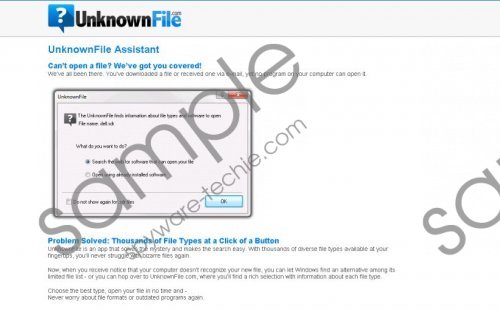 UnknownFile screenshot
Scroll down for full removal instructions
Although UnknownFile is offered on the official site unknownfile.com, it is not the only way how users can install this program in their computers. In fact, even if you choose to download this program from the said site, there is no guarantee that it will work at its full functionality. It is known that this potentially unwanted program also relies on the less direct channels of distribution to reach target computers. UnknownFile might also spread as a constituent part to software packages – so-called bundles – that might consist of additional potentially dangerous software. So, if UnknownFile is already on your system, you need check whether there are not additional unrecognizable programs that you need to remove as well.
UnknownFile might seem like a useful application that can help you open various unfamiliar file extensions. We all have been in the situations when we had to deal with such files. However, the benefit of this program is questionable to say the least, as all this application does is either search the web for the required software or open the files using the already installed programs. Although UnknownFile might facilitate your workflow by quickly identifying the necessary software, this program is still unreliable due to the fact that it promotes third-part advertising material that can be used to link you to malicious sites. All in all, UnknownFile is just another gimmicky application that seeks to enter computers in the guise of an indispensable program.
Even though you can remove UnknownFile from Control Panel manually, we strongly advise that you opt for the automatic removal. It is possible that this unwanted program already shares computer resources with other potentially dangerous infections that can only be detected by a reliable antimalware scanner. Professional antispyware software should be an important part of your computer system, because it is the only trustworthy tool that can safeguard against all the Internet-based threats.
Delete UnknownFile
Windows XP:
Move the mouse to the taskbar and click the Start button.
Choose Control Panel in the Start menu.
Open Add or Remove Programs.
Choose UnknownFile and click Remove.
Windows 7 & Vista:
Move the mouse to the taskbar and click the Start button.
Choose Control Panel in the Start menu.
Click Uninstall a program.
Select UnknownFile in the program list and click Uninstall.
Windows 8 & 8.1:
Open the Charm bar and choose Settings.
Click Control Panel.
Open Programs and Features.
Select program you wish to remove and click Uninstall.
In non-techie terms:
UnknownFile is a potentially unwanted program that might bombard your browser with additional commercial advertisements. The features it offers are secondary, so you do not need to risk having this program on your system. Do not forget to install an antispyware tool to remove both this program and additional questionable content.