Do you know what Unfriend Review is?
At first sight, Unfriend Review seems to be a very useful program because it promises to notify you when someone unfriends you on Facebook. As thousands of people have an account on this social-networking website, it is not surprising at all that this program is very popular and prevalent. Unfortunately, it seems that it is not as beneficial as it should be. Our security specialists have tested this software and found that it is a typical advertising-supported application (adware). In other words, it displays annoying commercial ads. Unfriend Review informs users that it is ad-supported, but not everyone notices that because this information is provided in the End User License Agreement. You can get rid of Unfriend Review rather easily if you do not want to keep a program which generates and displays advertisements on your screen.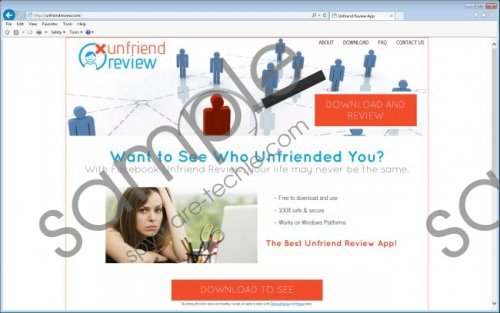 Unfriend Review screenshot
Scroll down for full removal instructions
Unfriend Review is developed by Big Ocean Development, and it acts in the same manner as Unfriend Watch and Share Anything. In other words, it displays commercial advertisements. You might see all kinds of ads on your screen, including pop-ups, search offers, and coupons. Do not click on any of those ads if you do not want to cause harm to your system. It is not advisable to do that because these ads might contain untrustworthy links that might redirect you to unreliable websites. Of course, this adware program will definitely show ads; however, not many people know that it will also record information about your online activities. In other words, this program might record the keywords you enter into the search boxes, the domain names of the websites you visit, and other browsing details. It is even interested in your geo-location!
Of course, people usually download this suspicious program from its official website unfriendreview.com; however, you should also know that this program might have entered your system with the help of other untrustworthy applications. Of course, you might have also downloaded a software bundle from some kind of untrustworthy third-party website. If you cannot say how this program has appeared on your system, it is likely that it has used one of its tactics and it is very important to make sure that other undesirable programs are not installed on the system. If you detect suspicious software on your PC, make sure that you delete it as soon as possible.
Luckily, Unfriend Review can be easily removed via Control Panel. In order to help less experienced users, we have prepared the manual removal instructions. Scroll down and you will find them below this article.
How to get rid of Unfriend Review
Windows XP
Click the Start button.
Select Control Panel.
Click Add or Remove Programs.
Select the undesirable application.
Click the Remove button.
Windows 7 and Vista
Open the Start menu.
Select Control Panel.
Click Uninstall a program.
Right-click on Unfriend Review.
Click Uninstall.
Windows 8
Right-click on the bottom-left corner and open Control Panel.
Click Uninstall a program.
Select the program.
Click Uninstall.
In non-techie terms:
As there are hundreds of other advertising-supported applications on the web, it is very likely that adware will enter your system in the future again if you do not take care of your PC's safety. Our specialists say that you should install an antimalware tool on the system and always keep it enabled. On top of that, you should stop visiting untrustworthy websites because you might download malware from them very quickly.