Do you know what Uncrypte Ransomware is?
According to our cyber security specialists, Uncrypte Ransomware is a recently released ransomware-type malware that was designed to encrypt your personal files and then offer you to purchase a decryption key. However, you should refrain from buying it because there is no guarantee that you will receive the decryption software and key. Indeed, you should not count on cybercriminals to keep their word because all they care about is getting your money. In this article, we will discuss things such as this program's distribution, functionality, and removal, so if your PC has become infected with this ransomware, then please continue reading.
Let us begin our discussion with Uncrypte Ransomware's distribution methods. According to our malware analysts, this malicious program is disseminated through malicious emails. Apparently, the cyber criminals have set up a server dedicated to sending email spam to random email addresses to infect the computers of unsuspecting users. The emails might be disguised as legitimate and try to give you the impression that they are invoices. The emails feature an attached file that could be a simple file archive or an executable file with a double extension pretending to be a Word document or PDF file. If you manually download and launch/open that file, then your PC will become infected with Uncrypte Ransomware.
This ransomware will scan your computer for files of interest. Researchers say that it was configured to encrypt all of the files on your PC except Windows system files because the ransomware developers want your PC to still function. We do not know what kind of encryption algorithm this program uses, but it should use the AES or RSA encryption algorithm. It should generate a public encryption key and a private decryption key that is uploaded to this ransomware's command and control server. Both keys have to match for the files to be decrypted. Unfortunately, if you want to get the decryption key, then you will have to pay the ransom, but the amount is not specified. The amount to be paid should be revealed to you when you message the developers via the provided email address at unCrypte@INDIA.COM.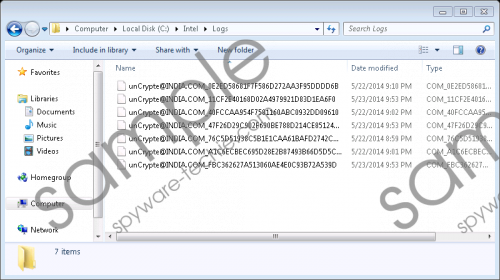 Uncrypte Ransomware screenshot
Scroll down for full removal instructions
While encrypting your files, Uncrypte Ransomware will append them with the unCrypte@INDIA.COM_XXXXX file extension that features a randomly generated hash at the end of the extension. Then it will drop its ransom note named Readme.txt. The note features a personal ID that you will probably have to send via email. The note says you can send three files that are no larger than 10 MB to the developers and they will send you them back decrypted to prove that they can actually decrypt your files. However, regardless of this fact, there is no guarantee that they will send you the decryption tool and key to decrypt all of your files.
In closing, Uncrypte Ransomware is one malicious piece of software that you ought to get rid of as soon as possible. If it were to encrypt your files, then it is too little too late to do anything about that because there is no free decryption tool. However, as mentioned earlier, there is no guarantee that your files will be decrypted if you pay the ransom. Therefore, we recommend that you remove this ransomware manually or using SpyHunter, an antimalware program that will make light work of this infection. You can also use its free scanner to detect the malicious files and delete them manually as well. Note that if you want to install an antimalware application, then you have to install it in Safe Mode.
Boot your PC in Safe Mode with Networking
Windows 10
Click the Start button and then the Power button.
Hold down the Shift key and select Restart.
Select Troubleshoot in the resulting full-screen menu.
Go to Advanced options and select Startup Settings, then press Restart.
The PC will reboot, and bring you to a Startup Settings screen.
Use the arrow keys on your keyboard to select Enable Safe Mode with Networking.
Windows 8 & 8.1
Press the Windows Key+C and then click Settings.
Click Power, hold down Shift on your keyboard and click Restart.
Click Troubleshoot, then click Advanced options, and select Startup Settings.
Click Restart and press 5 on your keyboard to Enable Safe Mode with Networking.
Windows 7 & Vista
Restart the computer.
Press and hold the F8 key as your computer restarts.
On the Advanced Boot Options screen, use the arrow keys to highlight the Safe Mode with Networking, and then press Enter.
Log on to your computer with a user account that has administrator rights.
Windows XP
Click the Start button and then click Restart.
Press and hold the F8 key as your computer restarts.
On the Advanced Boot Options screen, use the arrow keys to highlight the Safe Mode with Networking, and then press Enter.
Log on to your computer.
Manual Removal
Go to http://www.spyware-techie.com/download-sph
Download SpyHunter-Installer.exe.
Install the program and run it.
Click Scan Computer Now!
Copy the file path of the malware from the scan results.
Press Windows+E keys.
Enter the file path of the malware in File Explorer's address box.
Press Enter.
Locate, right-click the malicious files and click Delete.
Empty the Recycle Bin.
In non-techie terms:
Our malware analysts have concluded that Uncrypte Ransomware can encrypt your files and demand that you pay for the decryption key. It is no different from hundreds of other ransomware-type programs and you should not trust its developers to give you the decryption tool as software. We recommend that you remove it instead of complying with cyber criminals.