Do you know what TTWiFi is?
TTWiFi is categorized as a potentially unwanted program (PUP). Such programs cannot be compared with Trojans or viruses as they do not settle in without permission, or do huge damage to your system. Therefore, TTWiFi is not considered as a very harmful program, but our researchers warn us that the software might install adware application that is known as ADClick without your permission. Also, the application seems suspicious as its official website appears to be unavailable for now. The question is from where do users download it? According to our researchers, the program should be spread bundled with other freeware. If you do not want to keep this PUP any longer, you could scroll below the article and delete it with the provided instructions.
The application allows you to create Wi-Fi networks while using it. Although this primary tool seems to be working properly, the program might be quite annoying since it launches itself every time you turn on your computer. This quality could become irritating, especially if you do not plan to use the software every day.
As we mentioned above, the official software's website does not load, so it is difficult to get much information out of it. Although it is possible to read the program's End User License Agreement and Privacy Policy, the documents are very short, and many issues are not explained. For instance, it does not say anything about its right to download new versions, upgrades or any other software without your knowledge and yet it silently installs AdClick. Like a typical adware program, AdClick shows various targeted ads that should promote products or services that are related to your search keywords, visited websites, clicked ads, and so on. If you are an inexperienced user, you should read more about this adware and learn how to delete it. Naturally, you can find the ADClick removal guide here on spyware-techie.com. Our researchers have noticed that the PUP installs only this particular adware, but to make sure that nothing else was downloaded, you should do a full system scan with a trustworthy security tool.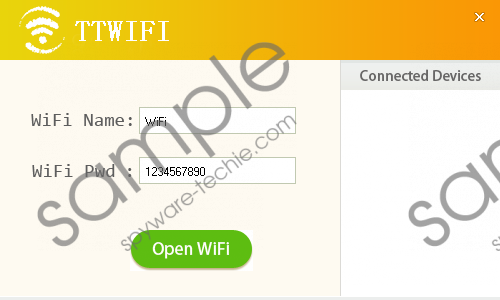 TTWiFi screenshot
Scroll down for full removal instructions
As our researchers say, the application might be distributed with the bundled installers that could be downloaded from suspicious web pages that promote various free applications. If you have recently downloaded any software from an untrustworthy website, it is possible that TTWiFi appeared on it as a suggested application. It means that you could have rejected or deselected it on the setup wizard. A lot of users rush the installation and do not read the terms before agreeing. As a result, they install suspicious or unwanted programs, just like this PUP. If you want to avoid this from happening ever again, you should be more attentive while installing any software.
To conclude, this application's qualities makes it look highly unreliable, so we would advise you to delete it from your system as soon as you can. Also, do not forget to search for the ADClick removal instructions and get rid of it too. Both of the programs and other possible unwanted software could be deleted automatically with a trustworthy antimalware tool that would erase it all automatically. Such tool could help you protect your computer from various threats in the future too; you just have to update it occasionally. However, if you prefer the manual removal, you could take a look at our suggested instructions for the PUP's deletion below the article. The software can be deleted through Control Panel, and it should not leave any junk files. If you want to know anything else about the program, feel free to ask us a question in the comment section.
Remove TTWiFi
Windows 10/Windows 8
Launch RUN (Win+R).
Type Control Panel and press OK.
Click on Uninstall a program.
Locate the application and click Uninstall.
Windows 7/Windows Vista
Open Start menu.
Choose Control Panel.
Select Uninstall a program.
Find the program and press Uninstall.
Windows XP
Click on Start.
Open Control Panel.
Press Add or Remove Programs.
Select the PUP and click Uninstall.
In non-techie terms:
The software was created by unknown developers, and it is spread bundled with other questionable applications. Moreover, it installs an annoying adware program without your knowledge. There are more than enough reasons to doubt this program and delete it from your system immediately. You can either leave this job for the antimalware tool or remove it on your own with the provided instructions.