Do you know what Trojan.VBS.UEF is?
Trojan.VBS.UEF is a malicious computer infection categorized as Trojan. This means that this program enters your computer surreptitiously pretending to be something it is not. You might not be aware that you are infected Trojan.VBS.UEF because this program pretends to be a part of a legal application. Nevertheless, you should remove Trojan.VBS.UEF from your system as soon as possible to avoid ultimate system crash. You will do yourself a favor if you invest in a licensed antispyware application right now because you can never know what other malicious infections might be hiding in your system.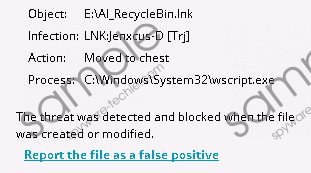 Trojan.VBS.UEF screenshot
Scroll down for full removal instructions
Normally, Trojans get installed on target systems through spam emails or corrupted outgoing links that are embedded in pop-up ads on affiliated websites. However, Trojan.VBS.UEF is a malicious threat that is written in the Visual Basic Scripting language, and it is included in a software bundle that distributes Avast Antivirus application. Here we would like to point out that there is nothing common between Trojan.VBS.UEF and Avast Antivirus because the computer security application clearly does not promote malware programs. If you had downloaded the application from the official vendor's site, it is very likely that Trojan.VBS.UEF would not have been installed on your PC.
Unfortunately, quite a lot of users tend to download software from third-party file sharing websites. Although these sites might look reliable at first, more often than not they include additional applications into their free installers. These programs might not be as reliable as one would want. In some cases, such infections like Trojan.VBS.UEF could be distributed bundled with freeware as well.
As our research shows, Trojan.VBS.UEF comes with a Free Avast installer that installs the malicious script along with the application itself. The program in question does not seem to be affected by Trojan.VBS.UEF, but the Trojan does its job well by displaying fake alarms that can annoy you to no end. Check out an example of a Trojan.VBS.UEF message below:
Avast File System Shield has blocked a threat. No further action is required.

Object: E:\Al_Recyclebin.lnk
Infection: LNK:Jenxcus-D [Trj]
Action: Moved to chest
Process: C:\Windows\System32\wscript.exe

The threat was detected and blocked when the file was created or modified.
It is obvious that this message is fake, and it is there only to convince you that there is something wrong with your computer. There is a good chance that Trojan.VBS.UEF could steal your data or lead you towards a financial extortion. What's more, Trojan.VBS.UEF also takes up your system resources, thus slowing down your computer.
Remove Trojan.VBS.UEF right now with a legitimate antispyware application. You simply must invest in a computer security tool because you have to keep your system protected 24/7.
In non-techie terms:
Trojan.VBS.UEF is a dangerous computer infection that could eventually lead to an ultimate system crash. While you are at it, you should also check whether there are more malicious programs on-board. Do not forget that malware programs often come in throngs, and Trojan.VBS.UEF might as well just open the door to your system for other malicious applications.