Do you know what Trojan.DarktrackRAT is?
Trojan.DarktrackRAT is a new remote administration tool (RAT) that has both an official website and is promoted on Facebook. Our malware researchers have found out that this malicious application is a free tool, which means that anyone can lay their hands on it and start distributing it with the intention of stealing personal information, dropping malware on the affected computer, or doing other malicious activities behind the user's back. This may sound quite complicated, but it is not – Trojan.DarktrackRAT allows the operator to control the system as if he/she has physical access to it. It should be emphasized that not all remote administration tools are used for malicious purposes – they have many legal uses; however, it seems that Trojan.DarktrackRAT has been developed for the use in a malicious way. Malicious RAT software is usually installed on victims' computers without their knowledge. Since these programs often use effective evasion techniques, they manage to hide themselves from antimalware tools. Users usually find out about their presence on their computers when it is already too late. Have you detected this RAT application on your PC too? Make sure you get rid of it right away.
According to our experienced researchers who have thoroughly analyzed Trojan.DarktrackRAT, this program does not differ much from other malicious applications classified as RAT software. If it is ever used against you, you might find new malicious software installed on your PC – it is capable of downloading and executing files. Also, Trojan.DarktrackRAT might be used to steal some personal information from you. It has been observed that it can perform such malicious activities as keylogging, webcam and microphone monitoring, and clipboard monitoring. Speaking from a more technical perspective, Trojan.DarktrackRAT might power off and power on affected computers (if the remote feature is supported) as well. In other words, this tool might be used to take full control of your system. It might cause you a great deal of problems, so if it ever turns out that you have it installed on your computer, you must take action in order to disable it immediately. The sooner it is gone from the system, the sooner everything will get back to normal.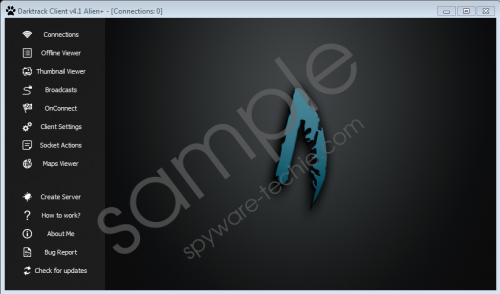 Trojan.DarktrackRAT screenshot
Scroll down for full removal instructions
Our malware researchers do not have much information about the distribution of Trojan.DarktrackRAT yet, but they suspect that this malicious tool might be dropped directly onto users' PCs after hacking their RDP connections. Also, it might be distributed in the form of patches, updates, or masqueraded as some kind of third-party application. This Trojan will work the same in all the cases, i.e. it will take control of the affected computer, so we encourage that you install security software on your PC to prevent the illegal entrance of malicious software. The installation of an antimalware tool does not give you permission to act carelessly, e.g. browse shady websites, download software from random pages, and click on all kinds of ads and links you come across while surfing the Internet. There are much more harmful malicious applications available on the web, we can assure you that. They can all slither onto your computer without your permission if you keep it unprotected.
You should not keep Trojan.DarktrackRAT installed because it might be used for malicious purposes. As mentioned, it might not only install malware on your PC and collect information about you without your knowledge, but it might also control your computer. Remote administration Trojans are usually quite sophisticated programs. Trojan.DarktrackRAT is no exception. You will remove it fully only by deleting three executable files it has. By default, they should all be named DtServ32.exe, but keep in mind that another filename might be set by the Trojan.DarktrackRAT operator instead. Therefore, if you cannot find executable files representing Trojan.DarktrackRAT anywhere on your computer, it would be best that you launch an automated malware remover to clean your system with. It will detect malicious components no matter how they are called.
Delete Trojan.DarktrackRAT
Tap Win+E.
Delete DtServ32.exe from the following directories: %WINDIR%\System32, %WINDIR%, and %APPDATA% (the file might change its name).
Launch Run (press Win+R).
Access the Run registry key (HKCU\Software\Microsoft\Windows\CurrentVersion\Run).
Delete the value DtServ32sm.exe (its name might change if the executable's name changes).
Empty Trash.
Scan your system with an antimalware tool to make sure no other malicious components are active on your PC.
Empty Trash.
In non-techie terms:
Trojan.DarktrackRAT might be used to perform malicious activities on affected users' computers, so users must remove it immediately from their PCs if they ever detect this infection. If no actions are taken and it stays active, it might install malware on the affected computer illegally and record various details, including passwords and logins, without the user's knowledge. Activities Trojan.DarktrackRAT performs sooner or later result in serious privacy and security problems.