Do you know what Trickyquestion.com is?
"When it rains, it pours" could be the title of our article about Trickyquestion.com, which is an intrusive browser hijacker that mostly infects computers in Middle Eastern countries, such as Egypt, Saudi Arabia, and the UAE. As a matter of fact, if your computer is infected with this hijacker, unfortunately, it means that there is a harmful adware program on-board as well. You cannot leave these infections on your computer because they may expose your system to potential dangers. In this article we will share with you what our researchers have found in regards to this browser hijacker after testing it in our internal lab. But we can tell you this now: You should remove Trickyquestion.com and the adware as well, if you do not want to be introduced to potentially dangerous third-party content or more malware infections.
When we talk about the Trickyquestion.com browser hijacker, we cannot do it without talking about Vonteera as well, which is the adware application this hijacker is distributed with. This adware can cause some serious problems for you and your system, too. Namely, it is known that this program can change the way it functions. Instead of simply displaying potentially unsafe third-party ads, which would be just enough to get more infections on-board or expose you to online scams, it can also download malware infections from remote servers. The more time Trickyquestion.com and its companion spend on your PC, the more infections may start to take their tolls. Practically, you have no choice but to delete Trickyquestion.com along with all other malware programs that may also be present on your system.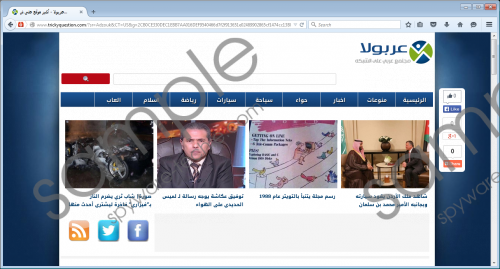 Trickyquestion.com screenshot
Scroll down for full removal instructions
When Trickyquestion.com sneaks onto your system, it hijacks your browsers. But it does not simply modify your browser settings, which you can easily change. This hijacker uses a more questionable method: It changes the shortcut Target lines. By inserting, for example, s3.amazonaws.com/amazo/RNND/sR2HVx2.html after the normal Target, it dooms your browsers to open redirected news websites, including Trickyquestion.com and 521news.com. When you use the search tool on these pages, you may end up on a google search results page, so they simply redirect your queries. To be quite fair, we have not found signs of harmful activities on these websites. But the simple fact that this browser hijacker makes changes on your computer without your knowledge and consent, and that it enters your computer with a harmful adware application, are enough for us to confirm that you should remove Trickyquestion.com right away.
So, let us see now how you can handle this situation manually. The first step is to remove Vonteera and all other malware applications that may be on your computer. For that, you need to access your Control Panel and identify these unwanted apps in the installed programs list, and uninstall them all. When you have finished, restore the Target lines of your browser shortcuts. If you have never done these steps before, please use our guide below the article. But there will still be a chance that some leftovers remain because the uninstallers do not always take care of all the Windows registry entries, for example. Thus, we recommend that you download and install a powerful antimalware application that can protect your system from similar infections and eliminate all of the ones that are present now on your PC.
Vonteera Removal from Windows
Windows 8 & Windows 8.1
Tap Win+X and navigate to control panel.
Click Uninstall a program.
Identify the unwanted applications and uninstall them.
Windows Vista & Windows 7
Tap Win+R and enter Control Panel. Press OK.
Access Uninstall a program.
Find the undesirable applications and uninstall them.
Windows XP
Access the Start menu and go to Control Panel.
Select Add or Remove Programs.
Identify the unwanted applications and remove them all.
Trickyquestion.com Removal from the Target line
Right-click on the browser shortcut and go to Properties.
Choose the General tab and uncheck the Read-only checkbox.
Select the Shortcut tab and in the Target line, delete the URL address after the quotation marks.
Press OK.
In non-techie terms:
Trickyquestion.com is a browser hijacker that comes with a potentially dangerous adware application called Vonteera. These two infections may harm your system's security; therefore, it is necessary that you remove both of them and any other related malware that may also be present on your computer. We advise you to use a reputable malware removal tool, such as SpyHunter, to tackle this issue and all other threats your operating system might be struggling with.