Do you know what Triangle Trail is?
The most likely reason for you to find Triangle Trail on your computer is that you have installed a bundle lately that contained malware infections. This adware cannot be downloaded from its own promotional website, so if it finds the way to your system, it should be via a freeware bundle. If this adware is active on your computer, it becomes quite conspicuous because of the annoying third-party advertising campaign it may start while you are trying to browse the web. Unfortunately, you cannot lower your system's vulnerability and exposure to unsafe content by closing these advertisements. The only way to stop the flow and the constant exposure is to remove Triangle Trail. The sooner you act, the less chance this and other malware have to harm your computer or your privacy. Before giving you the key to tackle this infection, let us tell you more about the risks that come with this adware.
A quick visit to the official website (TriangleTrail.com) that is supposed to promote this useless tool is enough for you to understand what you are dealing with. "THE NEW PLACE TO GET LOST IN THE INTERNET" is all you will ever know about this "mysterious" tool based on what you can read on its page. At least, one thing becomes sure: You cannot take this application seriously. You will see that it is impossible to download this tool from this site, so there has to be another way for it to spread over the web. According to our researchers, this adware simply uses the usual way to travel, which is software bundling. Unfortunately, this way you will have to deal with not one but a whole bunch of malware infections if such a bundle lands on your computer.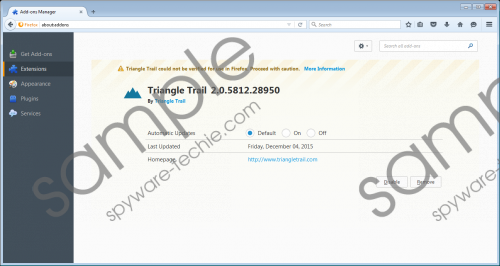 Triangle Trail screenshot
Scroll down for full removal instructions
Let us tell you how or where you can download such bundles from so that in the future you can avoid this. It is a known fact that questionable file-sharing websites, such as torrent and freeware sites, are the most likely places where you can get infected with such packages. Simply avoiding these sites and using exclusively reputable websites for downloading software can help you protect your computer from a lot of infections. The biggest mistake people make on these unreliable sites is to click somewhere on the page or in a pop-up window. You need to understand that these sites are full of unsafe third-party advertisements. These might even be invisible or what you may see is just a disguise, which can be a button of some sort. Wherever you click on these sites may be a trigger for malware to download onto your computer or new tabs to open in your browser with even more dangerous malicious sites. If these ring the bell and you have landed on such sites lately, you should not hesitate to delete Triangle Trail and run a full system scan to see what else may be threatening your operating system.
Our research has shown that this adware belongs to a well-know family of ad-supported programs that are built on the Injekt engine. Therefore, Triangle Trail is practically a clone of Wander Burst, Blazer Deals, Gravity Space, Jungle Net, and more. This adware is capable of spying on you by monitoring your online activities, collecting information about you. This can be used to send targeted ads to your screen, which can make you click on them more easily. Seeing a best deal offer about a product you actually care about could be irresistible to click on. However, what if cyber criminals are on the other end of that ad waiting for their prey to take the bait? If you do not want to experience being scammed, you should remove Triangle Trail as soon as you can.
The only good thing about this malware infection is definitely its working uninstaller. Locate it in Control Panel and run it. That is all you need to do to get rid of its annoying advertisements and the potential danger these may hold for you. Do not forget about the rest of the mess though. Since it is quite likely that your computer is infected with other threats as well, the best would be to use a professional malware remover that would also protect your PC from future attacks.
Triangle Trail Removal from Windows
Windows XP
Press the Start button and select Control Panel.
Choose Add or Remove Programs.
Click on the program and click Remove.
Windows Vista and Windows 7
Press Win+R and type in control panel. Hit OK.
Pick Uninstall a program.
Click on the program and click Uninstall.
Windows 8, Windows 8.1, and Windows 10
Press Win+Q and type in Uninstall a program.
Click on the program and click Uninstall.
In non-techie terms:
Triangle Trail is a worthless ad-supported program that may introduce you to potentially unsafe third-party web content through its advertisements. These banner ads, pop-up ads, and shopping offers can be very annoying and disruptive. However, that is not the worst they can do. This adware may display unreliable ads that may take you to malicious websites. Since this infection may enter your computer along with a couple of other malware threats, you should act before it is too late. We advise you to remove Triangle Trail right now and take care of all the other potential threats as well. If you want to make sure your PC is all clean and protected, you should use a trustworthy malware removal application.