Do you know what Treasure Track is?
Treasure Track is not a beneficial tool; it is an advertisement-supported program that might flood your browsers with unpredictable ads. You would know this if you researched this program before installing it. Even though we do not recommend relying on the information provided by the developers of potentially unreliable software, the End User License Agreement at treasuretrack.net/Terms provides important information. It is unlikely that you have read this document before installing Treasure Track, or you do not care about the security risks represented via it. In this report we discuss the activity of this suspicious adware, as well as the removal of Treasure Track. Continue reading if you are interested in this.
Although treasuretrack.net was set up to represent Treasure Track, this website does not provide users with an installer. We have witnessed High Stairs, Deals Avenue, Sale Charger, and other ad-supported programs created using the Injekt engine to be represented in the same manner. Our research shows that Treasure Track was created using this engine as well, and programs created using it are almost always used as advertising tools. If you do not delete this adware from your PC in time, you might encounter unpredictable advertisements, pop-ups, and shopping offers. We identify them as unpredictable because there is very little information about parties who have created them. As a matter of fact, this is one of the reasons why we recommend deleting Treasure Track from your PC.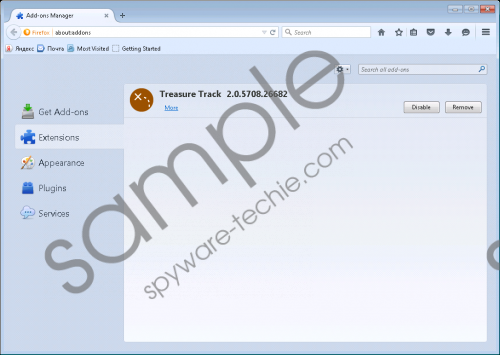 Treasure Track screenshot
Scroll down for full removal instructions
How was Treasure Track introduced to you? The information on the official website is very vague, and there is not a lot of information explaining how this program works. Of course, the installers carrying this adware could have used more attractive promises to convince you to install this adware. Unfortunately, third-party installers might bundle Treasure Track with malware that deserves immediate removal. You can check if you need to delete Treasure Track-related programs using a malware scanner. Keep in mind that malicious programs might hide or use clever disguises, and you cannot just assume that harmless-looking programs are, indeed, harmless.
Removing Treasure Track can be easy or complicated, and it all depends on the leftovers. Usually it is enough to uninstall this adware to get rid of it. Unfortunately, you might have to delete leftover files, which is another reason to install and use a legitimate malware scanner. If you are struggling with the elimination of this adware or other unreliable programs detected by a malware scanner, install a security tool that will get rid of all security threats automatically.
Remove Treasure Track from Windows
Remove from Windows 10/Windows 8.1/Windows 8
Launch RUN (simultaneously tap Win+R) and enter Control Panel.
Select Uninstall a program (use the search box if you cannot find it in the list).
Right-click the application you wish to delete and click Uninstall.
Remove from Windows 7/Windows Vista
Navigate to the Taskbar and click the Windows button to access a menu.
Open the Control Panel menu and move to Uninstall a program.
Right-click the application you wish to delete and select Uninstall.
Remove from Windows XP
Move to the left of the Taskbar, click Start, and open Control Panel.
Double-click Add or Remove Programs and open the Change or Remove Programs list.
Click the unwanted one and select Remove.
In non-techie terms:
Even though Treasure Track might have been introduced to you as a reliable tool, our researchers have found that this suspicious application is just an advertisement-supported program that was created to inject ads. Obviously, we suggest removing Treasure Track from your operating system, which you can do using the guide above. Afterward, do not forget to install a malware scanner to see if you need to remove leftovers or other infections. Make sure that you delete all threats and their components if you want to use your operating system risk-free.