Do you know what Torpedo Deals is?
Torpedo Deals is a browser extension, evidently, created for online shopping fans primarily: "For all of the shopping lovers out there, we have the best homepage for you!". It can be downloaded straight from the Chrome Web Store, or users can reach its download link by clicking on the Download button located on its official website torpedodeals.com. Torpedo Deals is not an actual application. More specifically, it is a homepage and New Tab page for the Google Chrome browser. Luckily, unlike similar programs, e.g. Chipopo and Sadooma covered by our malware analysts recently, it does not change the default search provider. Of course, not all the users are happy to see a new page in the place of their preferred homepage too, especially if the browser extension responsible for the changes has entered their computers without permission. If you also feel like Torpedo Deals has been installed against your will, go to delete it. Since it is not as useful as it claims to be, you will not regret getting rid of it even for a second.
Even though Torpedo Deals, as the information available about it tells us, has been developed for people doing online shopping primarily, it turns out quickly that this piece of software is not that beneficial, and users can easily live without it. Actually, in reality, it does not do much. Users only discover a new homepage and the New Tab page set after the installation of Torpedo Deals. The website it sets contains several coupons that should allow users to save some money (people can get those coupons for free) and quick access links leading to third-party websites, e.g. Macy's, Best Buy, and Amazon. As can be seen, buttons opening online shopping websites mainly are available there. These websites can, of course, be opened without the help of Torpedo Deals. Actually, users can easily find coupons on the web too, which shows that Torpedo Deals is not so useful despite all its promises to work in a good way. Specialists suggest being cautious with the search results located on its own search results page http://api-client.mobitech-search.xyz opened after entering a search query in its search box too because untrustworthy search results which might redirect to dubious third-party web pages might be shown to you. It has not been classified as a potentially unwanted program because of reasons listed in this paragraph only, we can assure you.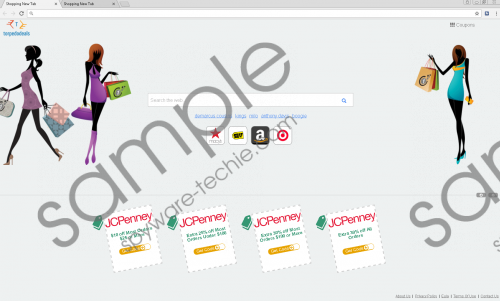 Torpedo Deals screenshot
Scroll down for full removal instructions
Specialists tend to call Torpedo Deals a potentially unwanted program because they have discovered that improper methods are used to spread it. For example, it might be placed in a "package" with free applications and wait until users click on the Download button to get free software it comes together with. Specifically speaking, Torpedo Deals often gets installed alongside freeware which users tend to find useful, e.g. video players, file converters, picture viewers, etc. This, actually, explains why some users cannot explain why they have this application installed on their computers even though they have not downloaded it from torpedodeals.com or chrome.google.com/webstore/detail/torpedo-deals/bpjgpmdhliadlakebgehogblbbnibcoo voluntarily. Users who have already encountered this PUP should be extremely careful because is entrance shows that there is a security loophole which might be used by other untrustworthy applications to sneak onto the computer too.
A new homepage and New Tab URL set on web browsers are directly associated with the presence of the browser extension Torpedo Deals, so to undo changes applied, users should go to erase this extension. Most probably, it will only affect Google Chrome, but it is necessary to check the list of extensions on other browsers, including Internet Explorer and Mozilla Firefox, as well. Users who cannot find this add-on on any of their browsers but still see the page set by Torpedo Deals should scan their computers with an automatic malware remover. It is the easiest and quickest undesirable software removal method that exists today.
How to delete Torpedo Deals
Internet Explorer
Open Internet Explorer.
Click Tools to open the menu.
Select Manage add-ons.
Click Toolbars and Extensions.
Locate the unwanted extension, select it, and then remove it.
Mozilla Firefox
Open your browser.
Press Ctrl+Shift+A.
Open the Extensions menu.
Click on the Torpedo Deals extension and then click Uninstall or Disable.
Google Chrome
Open Google Chrome.
Click on the main menu's button (top-right corner).
Click More tools and then open Extensions.
Select the unwanted extension and go to delete it.
In non-techie terms:
Theoretically, Torpedo Deals could have entered your PC together with undesirable software too because it travels in software bundles, so our security specialists suggest scanning the computer with a reputable scanner just in case. If any untrustworthy applications have been installed together with Torpedo Deals or there are threats actively working on the computer for some time behind a user's back, they will all be detected and removed instantaneously by an automatic malware remover launched by a user.