Do you know what Top Media Player is?
Top Media Player, as you may think, is a media player that plays 10+ types of video and audio files; however, our researchers claim that it is not really the "top" application in its category. In fact, this software might cause some virtual security issues indirectly. That is why our researchers have categorized it as a potentially unwanted program (PUP). This application may not be a dangerous threat to your files or your privacy, but it might still expose you to third-party content that might be unreliable. Since this PUP may enter your computer along with malware infections, it is possible that Top Media Player is the least of your worries right now. Still, we believe that you should remove Top Media Player and only then identify all other potential threat sources. Leaving any infections on board could lead to more exposure to cyber criminals and their vicious scams.
One way to download this questionable application is to visit its website at topmediaplayer.com. To be quite frank, we would not go as far as to call it a website; it is a simple and single webpage indeed. "Top Media Player plays all of your audio and video files" is all we learn about this PUP; however, the installer states that it is capable of playing 10+ types, which cannot really be called "all" in any way. But what are the chances that computer users end up on this page at all? Do you think that running a Google search on "Top Media Player" will get you anywhere near this official webpage? This is a rather general name as a whole, but all its three words actually cannot be more general. Therefore, you may not even find any information about its reliability with a simple search.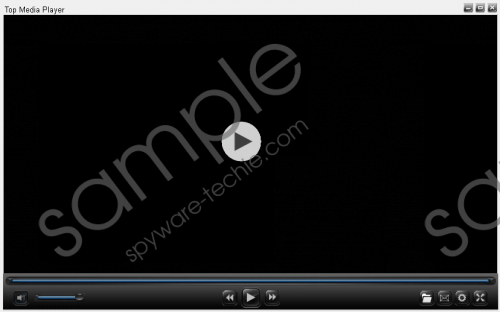 Top Media Player screenshot
Scroll down for full removal instructions
However, it is more likely that you are searching the web for a free media player and you end up on questionable file-sharing websites, including freeware and torrent sites. If you are not familiar with these pages or the fact that cyber criminals may use such sites to promote malicious software bundles, you may easily infect your computer with one. In fact, one click is all it takes on the wrong third-party content, such as a misleading advertisement, and you may allow a whole bunch of adware programs, browser hijackers, and potentially unwanted programs onto your machine. It is quite likely that Top Media Player has sneaked onto your PC this way. Therefore, we advise you to run a malware scanner on your system to identify all infections right after you delete Top Media Player.
As we have said already, this program is a media player that can play a number of video and audio files. We cannot claim that it does not do its job, even though we are not really convinced about its being the "top" player. The truth is that installing this PUP brings along an Ask toolbar, which is in the newer versions is a toolbar called Teoma (teoma.com). This is indeed a search page that has an Ask toolbar at the top with a number of quick links to different general third-party websites related to local weather and news. According to our researchers, you cannot even install this PUP without saying "Yes" to this toolbar, which makes it a bit pushy. Teoma seems to work only in Mozilla Firefox and Internet Explorer.
Letting this additional tool on board also means that it will not be enough for you to remove Top Media Player alone, since Teoma Shopping App and Teoma Search App will still remain installed. Unfortunately, such a search engine might pose a threat to your virtual security because it might display modified search results. We have also found that this PUP can show links leading to potentially unreliable third-party websites. Clicking on these links might be risky as you can never know which third parties can be trusted. You might be taken to a malicious website where you might get scammed by schemers. You may also infect your computer with more serious threats. This is exactly why we believe that you should delete Top Media Player from your computer.
If you have made up your mind and you are ready to act, we are here to share with you how you can put an end to this potential threat source. We have noticed that simply uninstalling Top Media Player via Control Panel does not remove all its parts, the additional undesirable tools. Therefore, you should uninstall Teoma Shopping App and Teoma Search App as well, and reset your Internet Explorer browser since these uninstallers seem to leave leftovers behind. If you need assistance, please use our guide below. It is possible that your computer has been infected by PUPs and more serious malware infections as well in the past. If you are looking for a powerful protection method, we recommend that you install a malware removal application that can detect and eliminate all known threats automatically as well as protect your system from future attacks.
Remove Top Media Player from Windows
Windows 8, Windows 8.1, and Windows 10
Tap Win+X and pick Programs and Features.
Click on the uninstaller and press Uninstall.
Windows Vista and Windows 7
Tap Win+R and type in Control Panel. Press OK.
Select Uninstall a program.
Click on the uninstaller and press Uninstall.
Windows XP
Open the Start menu and choose Control Panel.
Pick Add or Remove Programs.
Click on the uninstaller and press Remove.
Reset your browser
Internet Explorer
Tap Alt+T and open Internet Options.
Click Reset on the Advanced tab.
Mark Delete personal settings.
Press Reset and click Close.
In non-techie terms:
Top Media Player is a potentially unwanted program that might sneak onto your computer in freeware bundles containing malicious software installers. This is actually a working media player application, in all fairness, and does not mean direct danger to your computer. However, our researchers have found that this program can display third-party links that may not always be reliable and therefore safe to click on. Since this software might introduce you to unsafe third-party content, we believe that you should not keep it on board, not to mention the possibility that it has brought along malware threats as well. We recommend that you remove Top Media Player and look for a proper and reputable free media player on the web. If you want to keep your computer protected, you should invest in an up-to-date anti-malware program.