Do you know what Tools Plus is?
Tools Plus is an application that may get on your nerves soon enough as this browser extension keeps popping up alleged coupons and best deal offers whenever you decide to go shopping in a webshop. These windows may cover a good part of your screen, which can be rather disruptive even if this is not the main reason why we consider this program a potential threat source. Our researchers have categorized this extension as an adware program. You should know that when you have such an infection on board, you can never feel safe when you go online because it may hijack harmless and legitimate third-party advertisements. Even more so since this adware may infiltrate your system with a bad company of malware installers. In order for you to be able to feel safe in your virtual world, we recommend that you remove Tools Plus and all other suspicious programs that may cause security-related issues.
One of the suspicious things about this browser extension is that it is no longer available at any of its official sources, including the Chrome web store, chrome.google.com/webstore/detail/lmllgljchiihefphjbibfkhfogmlbgem and its promotional webpage, tools-plus.apps-repo.net/us/install. It is possible that this tool has been reported as an unreliable ad-supported program and Google blocked it in the store and that is why its page is unavailable. The official page is another story because it means that the creators themselves stopped promoting their own product. In fact, when you click to install this extension directly, the installation cancellation window pops up right away. These facts practically prove that you cannot install this tool from official sources. This also means that there has to be an alternative channel through which it can spread over the net.
As a matter of fact, we have seen this adware distributed via free software bundles. This is bad news for the victims because such a bundle may contain several malware infections, including other adware programs, browser hijackers, fake alerts as well as potentially unwanted programs. As you can see, letting the full content of such a software package could cause serious vulnerability issues for your system. This is why it is important for you to steer clear of shady file-sharing (torrent and freeware), online gaming, and gambling pages because these can easily infect you with such a bundle if you click on any content on them or try to download free programs or other files. You can also be introduced to unreliable third-party ads if you let adware programs on board previously. All in all, if you find out that you are infected with this adware, it is advisable that you scan your system with a trustworthy malware scanner right after you delete Tools Plus from your computer.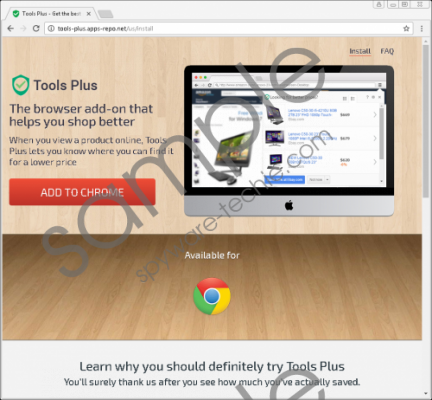 Tools Plus screenshot
Scroll down for full removal instructions
The Internet is swarming with free tools that claim to help you shop online cheaper, better, and whatever. However, only a few seem to deliver as promised. This adware infection is clearly not one of those. Since the Chrome web store seems to have already blocked its promotional page, it is possible that your browser will also do so in the near future. In any case, you should not engage with any content coming from this tool because it may not always be reliable. It is possible that questionable third parties or downright cyber criminals may exploit this extension and use it to promote their own malicious pages. Clicking on such content could take you to potentially harmful websites that could drop further infections or trick you into revealing your personal and credit card details. This way crooks can easily steal your money and also use your credentials to commit online crimes. In order to be safe from such awful scenarios, we believe that you should delete Tools Plus right now.
The only good thing about this useless tool is that it does not infect the other major browsers (Mozilla Firefox and Internet Explorer). Therefore, it is quite easy to get rid of it. Please follow our guide below this article if you do not know how to do this. Remember, that it takes more to secure your entire system. If you want to do a good job, you should go on hunting down malware infections. It is possible that you are not skilled enough to do all this manually, so we advise you to download and install a reputable anti-malware application. We recommend SpyHunter, which is a security tool that has proved to be trustworthy and effective against all known malware threats.
Remove Tools Plus from your browser
Google Chrome
Tap Alt+F and select More tools.
Pick Extensions.
Find the extension and click on the trash can icon on its right.
In the confirmation window, press Remove.
In non-techie terms:
Tools Plus is a new browser extension that tries to pretend to be useful to you by saving you time and money through best deals and coupons on online shopping sites. Unfortunately, our researchers have found that this is just another worthless ad-supported program that you should remove right after you notice it in your browser. This adware can show you questionable third-party ads that could expose you to malicious websites or more infections. In fact, this adware may also sneak onto your system along with other malicious software installers and thus make your PC even more vulnerable to cyber attacks. If you would like to restore the security of your system, we suggest that you detect and delete all potentially harmful programs right after you eliminate Tools Plus from your browser. If manual removal could be a bit of a challenge for you, we recommend that you use a professional anti-malware program.