Do you know what TicTacCoupon is?
TicTacCoupon is an adware application that affects Google Chrome, Mozilla Firefox and Internet Explorer web browsers. It is created with InstalleRex-WebPick platform, and the application belongs to a group of adware apps that are known to randomize their names upon the installation. There is no visual benefit of keeping TicTacCoupon on your computer. On the contrary – this program might be the gateway to serious computer's security issues. Hence, you have to remove TicTacCoupon from your computer before any of that happens. Invest in a powerful antispyware tool if need be.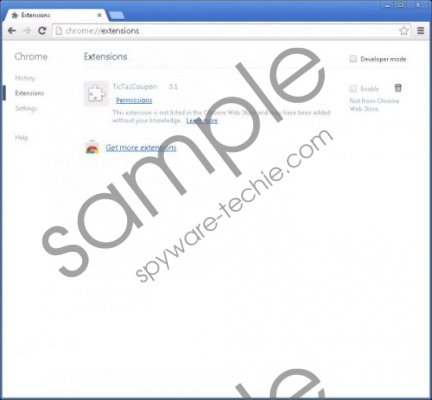 TicTacCoupon screenshot
Scroll down for full removal instructions
Since TicTacCoupon randomizes its name when it gets installed on your system, we can say that the program is practically identical to RegularDeals, YouTubeAdBlocker, ShopDrop, etc. Thus, if you see TIcTaCCoupOn or TiicTaeCOupon on the list of installed programs, rest assured that it is the same TicTacCoupon application. Perhaps you have not noticed how this application entered the system, but you will notice the infection symptoms because the program very eagerly spams you with commercial advertisements and various pop-ups whenever you browse the Internet. Do not be surprised if the pop-up ads are related to your likes and preferences – TicTacCoupon collects data on your web browsing habits in order to display customized ads.
The best way to avoid such application is to stay away from unfamiliar websites that offer freeware. Also, if you notice pop-ups that offer you to install new media player, Adobe or Java plug-in upgrade, do not even think of clicking them – these are the main distribution channels of TicTacCoupon and other similar adware. Thus, as you can see, users are the ones who allow TicTacCoupon to enter their systems. Most of the time, you can choose NOT to install the application, but the sad truth is that users tend to skip important freeware installation steps consequently allowing TicTacCoupon to settle down on their PC.
Needless to say, that TicTacCoupon is just an annoying nuisance that slows down your browser and displays a lot of unnecessary pop-ups. However, you have to consider the possible of TicTacCoupon being exploited by cyber criminals as well. After all, adware programs a very vulnerable to third-party exploitations, and if you are not careful enough, you might be redirected to dangerous websites that steal personal data or distribute malware.
Therefore, to ensure your system's security you need to uninstall TicTacCoupon right now. Since there might be more than just one unwanted program on your computer, you should scan the system with a computer security tool if choice. This way you will be able to ensure that all the unnecessary files and registry entries are deleted automatically, and the adware will not regenerate.
How to remove TicTacCoupon
Windows 8
Drag mouse cursor to the bottom right of the screen.
Click Settings on Charm bar and select Control Panel.
Open Uninstall a program and remove TicTacCoupon.
Windows Vista & Windows 7
Open Start menu and click Control Panel.
Go to Uninstall a program and remove TicTacCoupon.
Windows XP
Click Start menu and go to Control Panel.
Select Add or remove programs and uninstall TicTacCoupon.
Remove TicTacCoupon from your browser
Mozilla Firefox
Press Ctrl+Shift+A and Add-ons manager tab will open.
Disable and remove TicTacCoupon from Extensions.
Restart browser.
Google Chrome
Press Alt+F and go to Tools.
Open Extensions and remove TicTacCoupon from the list.
If you want to be absolutely sure that you have terminated all the unnecessary programs, go through the manual removal instructions below this description. Also, do not hesitate to leave us a comment, if you have any further questions.
In non-techie terms:
TicTacCoupon is a program that may expose you to corrupted content via third-party links. Avoid potential computer security issues by removing the application from your computer right now. Also, acquire a powerful antispyware tool to protect your system from similar intruders.