Do you know what The Fulltab is?
The Fulltab is browser extension that seems to only affect your Google Chrome browser as of yet. This tool may strike you as a useful addition to your browser at first sight since it promotes itself as a "must-have Chrome New Tab for media and social users," but we are here to tell you what our researchers have found out about it after the usual test in our internal lab. As a matter of fact, this tool has been categorized as a browser hijacker since it can modify your home page and new tab settings and set its own search engine page, which could introduce you to questionable third-party contents that could put your system at risk if you were to engage with any of those. We do not think that you would like to let more malware infections on board or end up losing money due to being scammed by cyber criminals on a fake website where you got redirected. Therefore, we recommend that you remove The Fulltab browser hijacker as soon as possible.
Our research shows that this hijacker is the newborn "child" of the Israel-based Imali Media team similarly to Search.funsafetabsearch.com, Search.yourmediatabsearch.com, and Search.newtabtvgamasearch.com. We have found that this malware infection is mostly popular in the United States (15.1%), India (6.5%), and Mexico (4.7%) but looking at the numbers, it also seems that a lot of other countries are also targeted in smaller percentages. Officially, you can install this questionable tool directly by visiting the Chrome web store at chrome.google.com/webstore/detail/fulltab/dfobofkgfnlaibpdigilbhhnampnfphg or the promotional webpage at fulltab.com. It seems that this browser extension has been installed by over 50 thousand users; however, the few reviews there are claim that it is a useless spyware with a lot of ads. Well, this is why you should always check what others say before rushing to install a new application. This could also be a good reason to want to delete The Fulltab right away if your virtual security really matters to you.
Unfortunately, it is more likely that you install this risky extension while installing a freeware bundle. This can happen when you click on questionable third-party advertisements or download free software from shady file-sharing websites. If you have noticed a constant flow of annoying ads, such as banner and pop-up ads, while browsing the web, it is possible that your computer is infected with adware programs. Such infections may expose you to unsafe ads even when you think you are viewing a safe and reliable website. You could also be introduced to unreliable content when landing on suspicious websites, including file-sharing (torrent and freeware), gaming, gambling, dating, and porn pages. One click on the wrong content could be enough for you to drop a bundle of adware programs, Trojans, fake alerts, browser hijackers, and potentially unwanted programs as well. If you ignore these threats after you delete The Fulltab, further security-related issues will arise before long.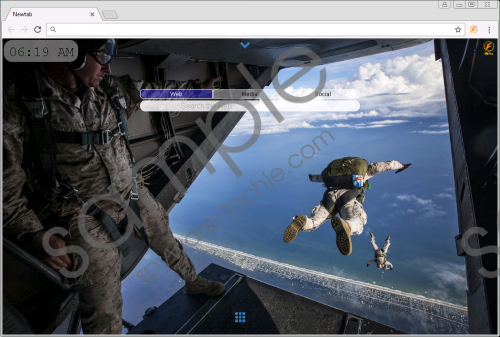 The Fulltab screenshot
Scroll down for full removal instructions
When you are installing this browser extension, it changes your home page and new tab page to search.fulltabsearch.com in your Google Chrome browser. This new tool "contains a large library of beautiful backgrounds for your new tabs" as well as a bookmark manager that is claimed to be much better than the built-in one. You can find a digital clock in the top-left corner of this search engine page as well as The Fulltab menu button in the top-right corner. If you click on this button a panel pops up with a few tabs, such as Add shortcut, Bookmark, and Background. In addition to these features, you also have media and social networking-related buttons and thumbnail links below the main search box.
We do not advise you to engage with anything this tool has to offer because our tests show that the search engine can present to you modified results containing potentially unreliable links and third-party advertisements as well. Since crooks may take advantage of this feature, you could be introduced to ads and links leading to malicious websites or dropping infections onto your machine. We do not think that you would like to end up scammed by criminals and lose money from your bank accounts or share your personally identifiable information with crooks. One click on the wrong content may lead to all kinds of security issues as you can see. Hopefully, you have no doubt now why we suggest that you remove The Fulltab as soon as possible.
It only takes one single minute for you to remove The Fulltab extension from your Google Chrome browser even if you are not an experienced computer user. If you need help with the steps, please use our instructions below. Since the removal of The Fulltab will most likely not mean that your system is all clean of malware infections, we suggest that you go on eliminating potential threat sources until there is one on your computer. If you find it too hard or ineffective to do this manually, we advise you to install a trustworthy anti-malware program, such as SpyHunter. This automated security software can protect your PC from all known malware threats if you keep it regularly updated and activated all the time.
How to remove The Fulltab from your browser
Google Chrome
Press Alt+F and go to Settings.
Select Extensions on the left.
Locate the extension in the list and click on the trash can icon on the right.
Press Remove in the pop-up.
In non-techie terms:
The Fulltab is a new questionable Google Chrome browser extension that claims to take new tabs to a "new level" by letting you customize the background of new tabs and adding bookmarking and other features as well as a search engine. Although this tool may look useful to you at first, we are sorry to tell you that our tests and user reports also indicate that this browser hijacker may expose you potentially unreliable third-party advertisements and questionable search results. Another reason why we advise you to remove The Fulltab from your browser is that it may enter your system along with other malware infections. If you want to restore the security of your computer, we recommend that you employ a reliable anti-malware application that will also automatically defend your PC from future malware attacks.