Do you know what Takahiro Locker is?
Takahiro Locker is a new ransomware that can attack your most important files, including your photos, videos, and archives. This malicious program seems to target Japanese computer users based on the fact that most of its screens, including the ransom note window, are in Japanese language. This does not mean, of course, that you cannot infect your computer with this beast anywhere in the world. The cyber criminals behind this major threat use different methods to make sure that this infection can infiltrate as many computers as possible. Since there is no real remedy for this malware infection, you should be very careful about your next step. We cannot stop you from risking the money transfer. But you should be prepared that you may just waste your money. We recommend that you remove Takahiro Locker from your computer right away. With every restart of your system, you will be exposed to this dangerous ransomware. Let us tell you how this beast may have appeared on your system and how you can protect your virtual world from similar dangers.
Our researchers have found that this malware program tries to use several methods to infiltrate victims' computers. The most common way is obviously the so-called spamming campaign. Cyber criminals like to use this method because these spam mails can easily fool not just your spam filter but most likely you, too. The senders can appear to be totally legitimate, for example, you may think that the sinister mail has come from local or state authorities, your Internet provider, a parcel sending service, a reputable hotel, and so on.
These spam mails of today also have very convincing subjects that you could not and would not overlook. How would you react if you found an e-mail in your inbox or even in your spam folder that says it contains the picture of an overdue invoice or a document that proves you gave the wrong credit card details while booking a flight? Even if you do not recall any bookings or such invoices, you would most likely want to see this alleged document or image. This is where you would go completely wrong. Because once you download and run the attached file (image or document), you practically initiate this attack. This is when it usually becomes too late to delete the ransomware program; however, in this case, you can still remove Takahiro Locker because it only displays a pop-up warning first saying: "WARNING RUNNING KILL ME!" If you click the OK button on this pop-up window, you can prepare to be ready to say goodbye to your files.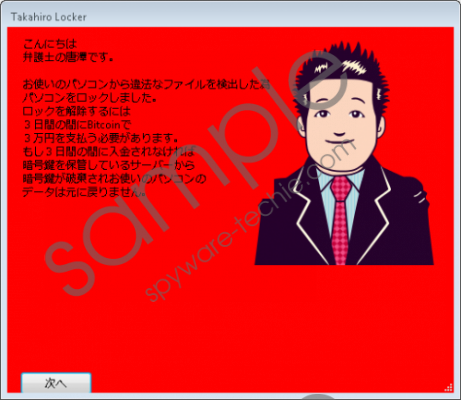 Takahiro Locker screenshot
Scroll down for full removal instructions
This ransomware can also be distributed by malicious websites and social networking sites, such as Facebook. You need to be very careful every time you surf the web and need to try to keep away from suspicious pages and clicking on third-party content if possible. As you can see one single click can let loose such a beast on your system and there could be no return from this.
Unfortunately, if you click OK on this pop-up window, this malicious program targets your .txt, .jpg, .png, .bmp, .zip, .rar, .torrent, .7z, .sql, .pdf, .tar, .mp3, .mp4, .flv, .lnk, .html, and .php files, and encrypts them. Your Task Manager gets blocked, which means that you cannot end this malicious process. However restarting your computer would start this attack over and over again. The good news in this is that for the second time you will not click OK most probably, so your Task Manager will not be blocked and you will be able delete Takahiro Locker.
However, if your files get encrypted, this malware infection pops up its ransomware note, which you cannot miss since it is a red page with the image of a Japanese-ish businessman. This note informs you about the attack and that you have to pay 30,000 Yens (around 290 USD), which is about 0.45 Bitcoins. If you fail to transfer this money in 3 days, your decryption key will be deleted from the remote server where it is kept. We cannot tell you with 100% certainty that these crooks will keep their promise. This is a difficult decision that you need to make yourself. We believe that you should delete Takahiro Locker if you want to restore your computer even if this will not recover your files.
Your only true savior is your removable drive if you have made backups recently. In this case, you still need to remove Takahiro Locker first. So let us tell you how you can do that. The basic question is that whether you clicked OK on the pop-up that comes up right after you run the downloaded malicious file. If you did not click, it means that your files are safe and you can easily delete this malicious program. If you did click OK, your files are already encrypted and you can only stop this infection if you restart your computer. Please follow our instructions below to make sure that no leftovers remain. Protecting your computer with a decent anti-malware program is a wise decision when you cannot do it yourself by becoming a more cautious web surfer.
Remove Takahiro Locker from Windows
Reboot your system if you clicked OK on the first pop-up window. The pop-up will show up again but instead of clicking on it, follow the next steps.
Tap Ctrl+Shift+Esc to launch Task Manager.
Locate the malicious process ("Update.exe") and click End task.
Close the Task Manager.
Tap Win+E to open File Explorer.
Bin the malicious executable file you downloaded.
Bin "%Temp%\Google\Chrome\update.exe", the malicious file.
Empty your Recycle Bin.
Tap Win+Q and enter regedit. Hit Enter.
Remove these registry entries:
HKEY_CURRENT_USER\Software\Microsoft\Windows\CurrentVersion\Run\Google Chrome Update Check (value data: "%Temp%\Google\Chrome\Update.exe")
HKEY_CURRENT_USER\Software\Google\Update\SEND\SENDING (random address)
Close the registry editor and reboot your system.
In non-techie terms:
Takahiro Locker is a real nightmare of a malware infection that you could actually avoid even after it starts up. This ransomware pops up a window before its skirmish commences; however, if you click OK, you doom your computer. This dangerous Japanese infection encrypts your personal files and demands a fee of around 300 US dollars in Bitcoins if you want to be able to recover your files. Our researchers say that there is no free tool on the web yet that you could use to restore your computer from this hit. Therefore, your only chance to save your files is to pay the ransom fee or use a recent backup copy you may have stored on a removable hard drive. It is never safe to transfer money to cyber criminals because you risk not getting anything in return. We suggest that you remove Takahiro Locker immediately, if you ever want to use your computer safely again. You may want to start protecting your computer effectively; therefore, we advise you to use a professional malware removal application.