Do you know what Tab2Play is?
Tab2Play is an extension for Google Chrome. However, it is also considered a potentially unwanted program that you ought to remove, because it was programmed to change your browser's homepage and new tab page with a search engine of questionable legitimacy. In this article, we will provide you with the most relevant information about this program. From the very outset we must say that this program is not malicious, so you can keep it if you really want to. However, in our opinion, Tab2Play does not offer anything useful, so you definitely will not miss it if you get rid of it. But let us get into some details, before we come to a conclusion.
Our security analysts have found a lot of information regarding this program's distribution methods. First of all, this program is known to be featured on Google's Chrome Web Store, and that is the place where most people get it. Nevertheless, another popular distribution site is located at Tab2play.byinmind.com. This is a dedicated download website set up by the developers. We think that this website is promoted via advertisements shown by adware programs. We cannot confirm this, but it is also very likely that Tab2Play is or will be distributed with the help of software bundles.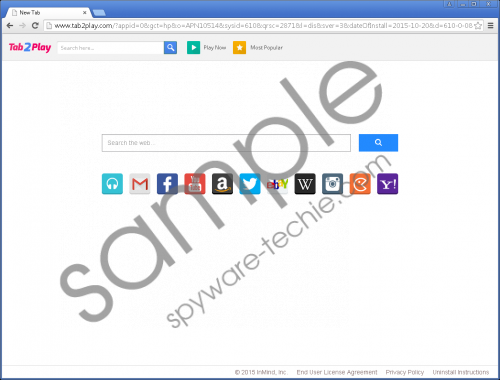 Tab2Play screenshot
Scroll down for full removal instructions
The developer behind this program is called InMind, Inc. This is a real company that has its own website at Byinmind.com. However, this developer does not have the best track record when it comes to reliable programs, so we do not recommend using any of its products, because there are all next to useless. That being said it is worth mentioning some of its previous releases that include: WorldSport New Tab, LifeStyle New Tab, Recipes By inMind, and a lot of others.
Now let us take a look at what this program actually does. So, when you install this extension, it will automatically change your browser's homepage and new tab page to its promoted search engine, which is a modified version of Ask.com. This search engine features a bar at the top of the window that doubles as a search box. So you do not get one but two search boxes in the same window for reasons better left alone. In any case, Tab2Play is promoted as a program that provides its users with free Flash games. Now, these games can be found on other website, but it seems that Tab2Play's selling point is that you do not have to register anyware in order to play them. Of course, no company develops a program for a simplistic function such as this.
Our researchers have found that Tab2Play's main purpose is to subject its users to unreliable search results, provided that users actually use the custom Ask.com search engine. The search results may feature promotional links that ruin the overall searching experience. Therefore, we do not recommend using it. Furthermore, in order to customize the promotions, this program's developers employ information gathering.
So all things considered, Tab2Play is not an application you should trust with your online searches. If you think that this program somehow enhances the browsing experience, then we suggest you reconsider your position. In any case, it is for you to decide. If you want to remove Tab2Play, then feel free to make use of the removal guide provided below.
How to get rid of Tab2Play
Open Google Chrome
Press Alt+F and click More tools.
Click Extensions and find the undesirable plug-in.
Click the Remove button.
In non-techie terms:
Tab2Play has been classified as a potentially unwanted program that you might want to remove, because it is automatically set to change your browser's homepage and new tab page to a modified version of Ask.com. We think that this search engine may include commercial links in its search results which is unacceptable. This program does not enhance the browsing experience, and therefore, we suggest that you delete Tab2Play.