Do you know what System Health Checker is?
System Health Checker is an add-on which users can download from the Chrome Web store (https://chrome.google.com/webstore/detail/system-health-monitor/mbmpjhclgodpjgbjhlnknfjdnjkijokf?hl=en) or its official website (http://systemhealthchecker.com/). Users who end up on its official website are forced to install this extension – they keep getting a pop-up "Add Extension to Leave" when they try to close this website. You will surely not find a legitimate program that acts like this, so our team of specialists has given it a name "potentially unwanted program" after testing it thoroughly. It is, of course, only one of several reasons it cannot be called a fully trustworthy application. Without a doubt, System Health Checker is not a serious malicious application, but it still cannot stay installed because it is completely useless and might perform undesirable activities. It should not be extremely hard to erase it with our help, so take action today. You will find it explained there why keeping System Health Checker is not such a good idea too.
Developers of System Health Checker do not provide much information about it, and our specialists could not find more about it either. There is only one sentence provided in the program description: "Monitor your system health and prevent before too late." Judging from this short description, it should help users to keep their PCs healthy, but we can assure you that it does not act beneficially at the time of writing. Actually, it does not do anything at all, so, according to our specialists, it might be very buggy, or it is still in development. Theoretically, it might be updated in the future and start acting properly, but, unfortunately, we cannot promise that it will become a useful program, so we do not suggest keeping it installed either. At the time of writing, all it does is disable the Add-ons Manager and, as a consequence, users cannot reach it. Additionally, because of this, it is hard to say whether System Health Checker is the one which has disabled the extensions menu. Our specialists know a way how you could find out easily whether it is active on your PC or not. You should try to find its folder mbmpjhclgodpjgbjhlnknfjdnjkijokf. It should be located in %LOCALAPPDATA%\Google\Chrome\User Data\Default\Extension or %UserProfile%\Local Settings\Application Data\Google\Chrome\User Data\Default\Extensions. If you manage to find it in any of these directories, there is no doubt that System Health Checker is installed on your Google Chrome browser. Go to disable it today – we are sure you will not regret getting rid of it.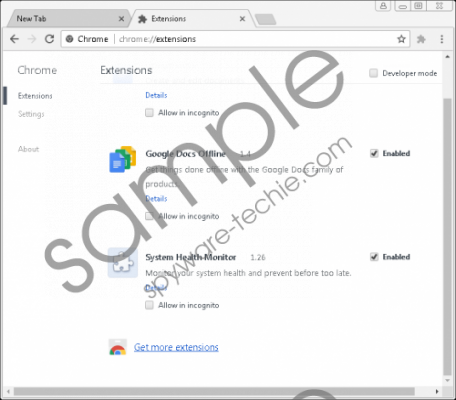 System Health Checker screenshot
Scroll down for full removal instructions
System Health Checker has fallen into the category of potentially unwanted software also because it might enter computers without the user's knowledge. Despite the fact that there are two websites it can be downloaded from, not all the users know why this piece of software is installed on their PCs, which suggests that bundling is a method used to distribute it. Bundling is a widely-used method to disseminate suspicious software. It is so popular because suspicious software can be spread hidden behind freeware and shareware. In other words, the chances are quite high that it will reach its final destination, i.e. a user's computer. It does not mean that it is impossible to prevent these undesirable applications from showing up on the system. If you are sure you do not want to encounter a new potentially unwanted program, you should install security software on your PC. As long as you keep it there, malware will not cause you any problems.
Since System Health Checker has disabled your Add-ons Manager, the only way to eliminate this undesirable extension from browsers is to remove its folder manually. You should let our manual removal guide help you – it is located below this article. If it does not help you much, perform a full system scan with a 100% trustworthy antimalware scanner – it will disable all suspicious extensions and remove active malware.
How to delete System Health Checker
Remove the undesirable extension
Open the Windows Explorer (press Win+E simultaneously).
Delete the folder mbmpjhclgodpjgbjhlnknfjdnjkijokf from these directories:
%LOCALAPPDATA%\Google\Chrome\User Data\Default\Extensions
%UserProfile%\Local Settings\Application Data\Google\Chrome\User Data\Default\Extensions
Go to reset your Google Chrome browser.
Reset the settings of Google Chrome
Tap Alt+F after launching your web browser.
Click Settings.
Go to the very bottom of the page and click Show advanced settings.
Click on the Reset settings button.
In the confirmation window, click Reset.
In non-techie terms:
Potentially unwanted programs, including System Health Checker, often travel in software bundles with third-party software. It is very likely that you have installed a software bundle on your computer too if you do not know anything about the installation of this browser extension. Unfortunately, this might also mean that you have allowed other untrustworthy programs to sneak onto your computer too – they could have been distributed in the same software bundle together with System Health Checker. Therefore, it is highly recommended to scan system with a reputable automated tool fully even if you have successfully removed the undesirable extension manually.