Do you know what Swytshop is?
Swytshop is a browser extension that promises to save you expense and trouble, but it can only increase them. The application should show you the lowest prices available for the goods you search for at the largest online commercial stores. But the real purpose of Swytshop is to spy on you using various data tracking technologies. The gathered information could then later be shared with the business partners of this program. You will never know whether or not those partners use the information about you for any illicit goals. Do not get involved in a guessing game; remove the unreliable adware application from your system instead.
It is highly possible that you do not even remember how Swytshop entered your computer. The program is distributed at the swytshop.com website but usually comes in a disguise. In order to spread the application more widely, its developers put it in bundles with other programs. Whether you download some program from free software websites or get something from file sharing or torrent pages, please be very attentive towards the Terms and Conditions of any piece of software you are ready to receive. In most cases, you can deselect all the unwanted programs. If some of the offered programs are unknown to you, conduct your own little research and allow those applications to enter your device only if you are sure about their reliability.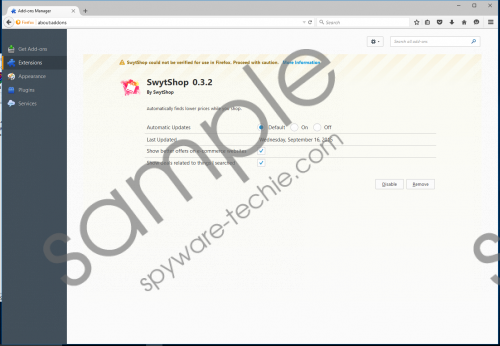 Swytshop screenshot
Scroll down for full removal instructions
This program may come unnoticed, but you will surely notice its presence very soon. It will annoy you with commercial advertisements each time you decide to surf the Web. On top of that, those ads are provided by unknown third parties, and Swytshop is not liable for any consequences of your interaction with those third parties. Be aware that this adware application uses cookies to collect data about usage. It claims to do this for the purpose of customizing offers for you, but why then does it have to share the data with third parties? We are living in a world filled with various criminally-minded persons, and what if some of them run those third-party websites that are promoted by Swytshop? Or, even worse, what if they are simply standing behind those third parties with whom the adware program is sharing your data? Continuing to use this application is the same as giving the keys to your door to burglars and telling them there is no one at home and then sharing the code of your money safe. Remove Swytshop, forget about it, and never trust this adware application in the future.
At the moment, this browser extension is compatible only with the Mozilla Firefox browser. If you want to get rid of Swytshop yourself, then our short guide will assist you in this process. Of course, you can rely on trustworthy security software that will make the removal of the extension look like a piece of cake. It is up to you to decide which of the elimination methods to choose. But having a reliable defensive program installed should be a must for any security-conscious user.
How to remove Swytshop from Mozilla Firefox

Open your Mozilla Firefox browser and tap Alt + T.
Click on Add-ons.
Go to Extensions and delete the unwanted extension.
In non-techie terms:
Swytshop is a program that should show you the lowest price for goods you are searching for. In addition, it should display to you sales coupons and vouchers. But you should look for other ways to boost your shopping experience. Swytshop is an adware application that will make your Internet browsing very uncomfortable with the never-ending flow of commercial advertisements. Besides, the program collects even your personally identifiable information and could share it with unknown entities. Prevent any possible fraudulent activities by removing this application ASAP.