Do you know what SwizzleBiz is?
SwizzleBiz is an adware-type application that is set to display numerous annoying advertisements that will obstruct browsing experience and subject your computer to dangerous content. We are of the opinion that you should remove this application before it can compromise your system's security and infect it with malicious applications. The application has the ability to gather rather sensitive information about the user, which is then used for commercial purposes. This program has nothing beneficial to offer to the end-user. So we advise you to delete this application as soon as you can.
SwizzleBiz is a product of a malware developer, called SuperWeb. The company is infamous for developing dozens upon dozens of adware applications. Some more recently rolled out infection include: RankRomp, Global Gadget, Enhancesoft, BeepieBear, and many others. It goes without saying that you should remove the aforementioned infections as well, if you happen to encounter them. At any rate, SwizzleBiz has its own dedicated promotional website, called SwizzleBiz.biz. But typically of al SuperWeb infections, the download does not initiate if you press the download button. The application is likely to be distributed via freeware bundles that can be found on websites, such as Brothersoft.com or Softpedia.com. Though, you can remove SwizzleBiz from the installation process by opting for custom installation settings and unchecking a particular checkbox.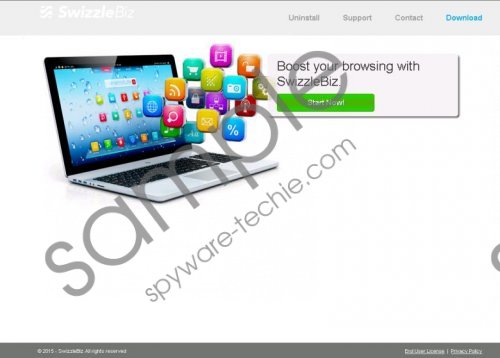 SwizzleBiz screenshot
Scroll down for full removal instructions
You can determine whether your computer has been infected with this adware by paying attention to an advertisement's labeling. "Ads by SwizzleBiz" and "Provided by SwizzleBiz" is what you need to look for. If you find an advertisement labeled in this fashion, you should move quick and remove it, because failure to do so might result in unforeseen consequences. Research has shown that SwizzleBiz is apt to display third-party advertisements linked to infected websites. If you accidentally click an advertisement, you might initiate a malware download. Note that your computer can get infected with Trojans, rootkits, browser hijackers, fake applications, and so on. Some of the aforementioned infections are impossible to remove manually and some of them are. In any case, we recommend that you get an anti-malware scanner that will remove any threat and keep your system safe and secure.
One last thing to mention is its data collection capabilities. SwizzleBiz has the ability to gather information, such as browsing habits, search queries, IP addresses, and browser settings. This is done in order to customize advertisements to a particular user, thus, increasing the chance of a click. If you do not want to share information about your browsing habits with unknown entities, we recommend that you delete SwizzleBiz.
To sum up, we can say that SwizzleBiz is not an application worthy of remaining on your computer. It can subject you to dangerous content, such as malware downloads and so on. on top of that it covertly collects information about your browsing habits that is used to advance someone's personal agenda. So do not hesitate, and remove this infection ASAP.
How to remove SwizzleBiz from your computer
Windows 8/8.1
On your keyboard press the Windows key + X.
Open the Control Panel and click Uninstall a program.
Locate SwizzleBiz and right-click on it.
Click Uninstall.
Windows Vista/7
Open the Start menu.
Click Control Panel.
Select Uninstall a program.
Locate SwizzleBiz and right-click on it.
Uninstall the infection.
Windows XP
Open the Start menu.
Click Control Panel.
Select Add or remove programs.
Locate SwizzleBiz and click Uninstall.
How to remove SwizzleBiz from the browser
Microsoft Internet Explorer
Press Alt+X.
Select Manage Add-ons.
Open Toolbars and Extensions.
Click Remove SwizzleBiz.
Close.
Mozilla Firefox
Press Ctrl+Shift+A and open Extensions.
Click Remove SwizzleBiz.
Google Chrome
Press Alt+F and open More tools.
Select Extensions.
Click Remove SwizzleBiz.
In non-techie terms:
SwizzleBiz is an adware application that you should remove, because it will subject your computer to unreliable advertisements provided by various third parties. These advertisements might get you computer infected with malware. On top of that, the application is known to collect information about the user's browsing habits, which should not be tolerated. So remove this application ASAP.