Do you know what SwiftMediaConverter is?
Unwanted third-party content within your web browser signifies that an adware applications known as SwiftMediaConverter might be active on your operating system. If this is the case, you should act immediately and remove it from your operating system. While this adware is mostly advertised as an excellent tool that should help you convert all sorts of audio files, you must know that these promises are misleading to say the least. Such devious marketing strategies are usually the consequence why users get their PC infected with this ad-supported application. Do not get fooled by these statements and make sure to stay away from SwiftMediaConverter because all that it will do is make your online experience a frustrating and annoying one. Use the removal guide that we provide below to delete this intrusive adware application in no time.
Even though SwiftMediaConverter has an official website, the direct download link does not work. This means that in most cases this adware is spread via bundled installers. If you have not installed this program consciously this is most likely the case and that is why you are advised to check your PC for other dubious programs since bundled installers are known to host numerous suspicious programs within them. If you are a security conscious user, you must take a few preventive steps to reduce the risk of getting your PC infected in this way. Make sure to stay away from various third-party download websites because they are known to be the main distributors of software bundles. Additionally you must pay as much attention as possible to all the installation procedures. We advise you to always choose the advanced installation as it provides maximum information regarding the setup process; this way you might be able to cancel the installation of any unwanted program. Lastly, but most importantly make sure to install a reliable antimalware tool as it is your best bet to keep your PC clean and secure at all times.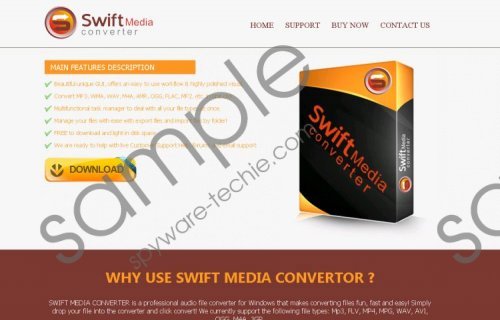 SwiftMediaConverter screenshot
Scroll down for full removal instructions
The primary indication that SwiftMediaConverter runs on your operating system is a browser full of annoying and unwanted third-party content. Mostly the content provided by this adware manifests itself as annoying pop-ups and third-party commercial ads. Do not get fooled by those ads as they in reality are utterly worthless. The first thing that is annoying about this unwanted content is that it is presented to you in a random way whether you like it or not. And then, of course, it will make browsing the web a frustrating and annoying experience altogether since you will be forced to close numerous ads at each browsing session. The constant presentation of this annoying web content will make browsing the web the way you are used to virtually impossible. As long as SwiftMediaConverter is active on your PC you will be forced to deal with those ads and pop-ups. If you wish to stop this activity, make sure to conduct a complete removal of SwiftMediaConverter without any hesitation.
The removal procedure is rather simple since it is possible to delete this adware via Control Panel. While the invasive activity will stop after manual removal it, unfortunately, has been discovered that in some cases some leftover files and registry entries of SwiftMediaConverter could still be present on your PC. If such leftovers pile up, they could make your computer run slower. In order to avoid such instance make sure to check your PC for them once you have executed the manual removal.
How to delete this adware program from your PC
Delete this adware from Windows Vista and Windows 7
Click the Windows button.

Select Control Panel.
Click Uninstall a program.
Select SwiftMediaConverter.
Click the Uninstall button.
Delete this adware from Windows XP
Tap the Windows key located on your keyboard.
Select Control Panel and click Add or Remove Programs.
Right-click the unwanted application.
Select the Remove option.
Delete this adware from Windows 8
Move the mouse pointer to the lower-left corner of the screen.
Right-click and then select Control Panel.
Click Uninstall a program.
Double-click the adware application.
Confirm that you want to remove it.
In non-techie terms:
The removal of SwiftMediaConverter is paramount. If you find the manual removal too complicated do not hesitate to follow the instructions provided below as they will help you delete this adware completely in a fully automatic way.