Do you know what SW-Sustainer 1.80 is?
SW-Sustainer 1.80 is a program that is spread over the Internet alongside various freeware programs, including browser add-ons such as GoSave, system optimization tools, and other questionable programs. SW-Sustainer 1.80 is published by Genuine P software, but in some cases you may find that the program is associated with Certified Toolbar or PremiumSoft. Additionally, it has been observed that SW-Sustainer 1.80 is distributed by the InstallRex-WebPick installer, which is notorious for distributing advertising-supported browser add-ons.
SW-Sustainer 1.80 functions as an adware helper, which means that it can perform a variety of functions, depending on the requirements of the creator. Usually, adware helpers connect to the Internet without the user's permission and communicate with remote servers to download updates for a specific program or exchange information with third parties. In some cases, adware helpers may download some unreliable files, which may have a negative effect on the performance of your computer or even your privacy. It is highly advisable to remove SW-Sustainer 1.80, as well as any other adware helper, from your computer.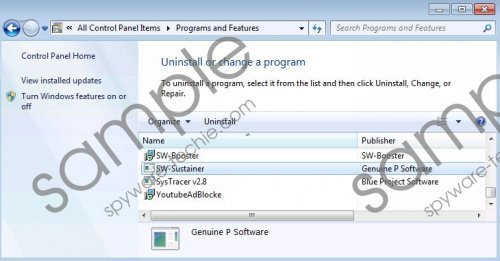 SW-Sustainer 1.80 screenshot
Scroll down for full removal instructions
The fact that your computer contains SW-Sustainer 1.80 implies that your computer contains a more dangerous program. If you are bombarded with annoying pop-ups, you should not click on them because some of them may be related to phishing websites. The developers of adware programs do not endorse third parties and their actions, resulting in the display of deceptive advertisements. There are multiple phishing websites aimed at deceiving you, and they are very often advertisement pop-up windows.
SW-Sustainer 1.80 creates a background process named SW-Booster.exe*32, which you can find in the Windows Task Manager. However, it is not enough to disable the process because it auto starts automatically every time the computer is loaded.
In order to get rid of SW-Sustainer 1.80, you should implement a powerful anti-malware program so that you do not have to worry about further malware and spyware attacks. We recommend that you implement SpyHunter because this program is capable of deleting adware helpers, adware programs, browser hijackers, ransomware infections, fake anti-virus programs, and many other threats. Below you will also find our step-by-step removal guide which should help you uninstall the SW-Sustainer 1.80 adware helper. In case you have any questions concerning the removal of this potentially unwanted program, feel free to contact our team.
How to remove SW-Sustainer 1.80
Windows Vista and Windows 7
Click Start.
Select Control Panel.
Click Uninstall a program.
Remove the unwanted application.
Windows XP
Open the Start menu.
Click Control Panel.
Select Add or Remove Programs.
Uninstall SW-Sustainer.
Windows 8
Press Win+R and enter control panel.
Click OK.
Select Uninstall a program.
Remove the unwanted application.
In non-techie terms:
After uninstalling SW-Sustainer 1.80, you should implement a reputable scanner to make sure that SW-Sustainer 1.80 is no longer running in the background of the system. To do so, you should implement a reputable scanner, which you can install following the instructions provided below.