Do you know what SW Booster is?
SW Booster is a potentially unwanted program that users download bundled with other freeware. If you have this program on your computer, it means that you have a number of other potentially unwanted and perhaps dangerous programs installed as well. Removing adware and other unwanted applications from your PC is necessary, if you want to avoid getting infected with malware. When you remove SW Booster from your computer, make sure you terminate all the unwanted programs in one go. There is nothing useful about SW Booster, and you should not keep it on your system.
Usually, users do not understand that they install SW Booster onto their computers themselves. There is no direct download link for this application, because it is always distributed together with other applications. The problem is that sometimes even legitimate program setups include SW Booster. That happens when users download programs from unreliable websites. It means that if you are about to download and install a new software application, make sure you download it at the official website. Otherwise, you might end up installing a list of unwanted and potentially dangerous programs.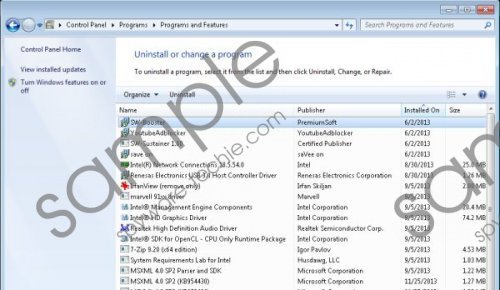 SW Booster screenshot
Scroll down for full removal instructions
SW Booster can travel with various freeware applications. We have seen it arrive together with EZDownloader, Optimizer Pro, LiveSupport and many other unwanted programs. What is more, sometimes the freeware setup file that contains SW Booster may also have browser hijackers as well. Thus, if you install the full version of the application, you will experience browser settings modifications as well.
It is very likely that SW Booster functions like adware. It means that it works in the background of your system and collects data on what websites you visit. The information collected is later on used for commercial advertising. Have you ever seen pop-ups appear when you browse the Internet? Do they promote goods and objects you usually search for online? It is because SW Booster processes the information and creates your online profile. With this data, third parties can generate commercial advertisements that appear now and then on your browser.
Technically, SW Booster is neither too dangerous nor intrusive. However, an extensive list of similar applications on your system can significantly slow down your computer and expose you to potentially harmful content. It should be in your best interest to remove SW Booster from the PC. Luckily, manual removal is not complicated, and you can uninstall SW Booster immediately.
Remove the rest of unwanted programs as well. If you do not know which programs must be removed, scan your system with licensed antimalware tool. Finally, invest in a powerful security application that will safeguard your computer against similar threats in the future.
How to remove SW Booster
Windows 8
Drag mouse cursor to the bottom right of the screen.
Click Settings on Charm bar and go to Control Panel.
Select Uninstall a program and remove SW Booster.
Windows Vista & Windows 7
Click Start menu and select Control Panel.
Go to Uninstall a program and remove SW Booster.
Windows XP
Open Start menu and click Settings.
Go to Control Panel and select Add or remove programs.
Uninstall SW Booster.
There are also additional instructions below this description, and you can try them out as well.
In non-techie terms:
SW Booster is an unwanted application that may cause various system security issues. You have to remove SW Booster from your computer immediately, and then make sure you stay away from unreliable websites that distribute similar applications.