Do you know what Sure PC Backup is?
Sure PC Backup is yet another adware-type application released by Flatiron Media, LLC. Our malware researchers say that this program is malicious and recommend that you remove it as soon as you can. This program can pose a threat to your computer because it will expose you to malicious content and get it infected with various types of malware. Also, this program can collect information about you and use it to customize its ads to make them more relevant and make money for its developers. Yet this program is advertised as useful, a program that can store your file backups on a remote server, but the fact of the matter is that it does not have such a server and everything about its official functionality is a blatant lie.
While most adware-type applications serve their ads in the form of coupons, in-texts, banners, pop-unders, and pop-ups, Sure PC Backup's developers have taken a different approach to online advertising. This program's method is guaranteed to pay because while traditional adware developers use the pay-per-click system to generate advertising revenue, this program's developers make their program load the promoted websites without user input.
Our researchers say that this adware will randomly open its GUI window that always loads http://mozy.ie, a legitimate cloud storage-related website. However, this does not make Sure PC Backup useful because it just promotes a file backup service, but does not provide it, because its objective is to subject you to content promoted via Internet Explorer. Indeed, this program will also randomly open Internet Explorer and load websites such as http://savings-galleria.com/home/a/?h=1&agent_ID=201735&campaign_ID=6089, a website that contains various advertisements, but all of them redirect to http://seekhomeloantoday.com/?pub=201735&campaignid=6089 which contains more ads, and it is here where you can encounter links to malicious websites. Furthermore, the web browser might load http://reg.cool-surveys.com/rd_p?p=342118&t=23111&c=&a=1636&uid=1023c0625add8e185065b9c87b5b6a, a shady website that requires you to enter your personal details such has your email address, home address, phone number, name and surname, and so on for a chance to win some kind of prize. So here is what you can expect from this application. It does not provide a file backup service, but it is happy to promote a third-party one. Nevertheless, this is dishonest marketing on the part of this program's developers. Speaking of which, let us discuss them in more detail.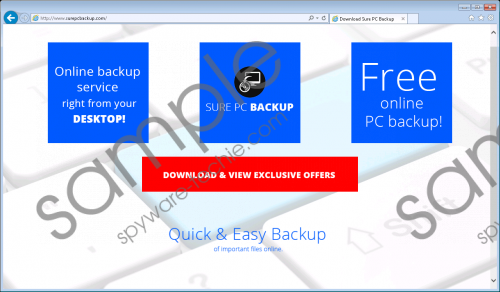 Sure PC Backup screenshot
Scroll down for full removal instructions
Researchers have traced this program back to an adware developer known as MDMExclusives/MyDailyMoment, a trademark of Flatiron Media, LLC. This company is responsible for developing a lot of adware-type applications that include Travel Giga, CrunchTravel, Social Pogo, Diet Interactive, and many others. This company makes many programs, and the reason it is so productive is that all of its applications are clones of each other. The entire code of those programs receives few tweaks as the developers just rebrand the base application, set the websites that it will promote and set it up with a dedicated distribution site.
Sure PC Backup's download is hosted on http://www.surepcbackup.com. On this website, this application is bundled with an InstallCore installer that contains an additional program called MyPCBackup. These two applications have similar names, but the come from different developers. MyPCBackup is a potentially unwanted program and is not regarded as malicious, but it does not do anything good either. Our researchers have found that Sure PC Backup is promoted by other adware and browser hijackers, so if you have this application on your PC, then you probably got it by clicking an ad served by other malware.
To conclude, Sure PC Backup is undoubtedly a malicious application because it can promote questionable content that may turn out to be malicious. Also, it is promoted by other malware, so we cannot give this program the benefit of the doubt. Therefore, we have provided you with a removal guide at the end of this description. All you have to do is uninstall it via Control Panel, but we recommend that you scan your computer with an antimalware program to delete any additional malware.
Uninstall this adware using Control Panel
Windows XP
Open the Start menu and click Control Panel.
Open Add or Remove Programs.
Locate application and click the Remove button.
Windows 7 & Vista
Open the Start menu.
Select Control Panel.
Click Uninstall a program.
Locate and right-click on the program.
Click Uninstall.
Windows 8 & 8.1
Open the Charm bar.
Click Settings and select Control Panel.
Open Uninstall a program.
Locate unwanted program and click the Uninstall button.
Windows 10
Right-click on the Start menu.
Find the adware and right-click on it.
Click the Uninstall button.
In non-techie terms:
Sure PC Backup is an adware-type application dedicated to subjecting you to commercial ads, but it is dishonestly presented as file backup service. So, apart from subjecting you to various promoted websites, this program will not do anything else. Furthermore, some of the promoted websites are of questionable legitimacy. In short, this program is not good, so do not hesitate to delete it.