Do you know what Super System Optimizer is?
Super System Optimizer is a super worthless program that poses as a system optimizer, but it is nothing more than a potentially unwanted program (PUP). Our malware researchers have tested this software in our internal lab, and now we are ready to share the results with you. Unfortunately, this PUP is far from being beneficial for you; it might actually cause system security issues. Super System Optimizer may travel with malware infections that might expose your system to cyber criminals or simply create more chaos. Removing Super System Optimizer may not even be enough to restore your virtual security. Please read our full report to understand more fully what you are up against if you have this PUP on your computer and how you can make it disappear.
Super System Optimizer is not a new invention. Virtually, there are lots of similar programs that pretend to be system optimizers. This PUP used to have an official website at supersystemutilities.com/super-system-optimizer.html, but, interestingly enough, it is not there anymore. In fact, if you Google this software, most of the articles will be about removing Super System Optimizer and only a few questionable freeware sites will offer download. However, if you try to download the software from these file-sharing websites, you may still bump into obstacles. For example, one of the sites has suspended the download link by its own antivirus system. Well, that does not sound too good. What do you think? That is exactly why we suggest that any time you want to install a free program, research it first. It does not take too long to figure out whether your target software is a reliable one or a potentially harmful one. That could save you from the trouble of getting useless applications or even infections onto your computer.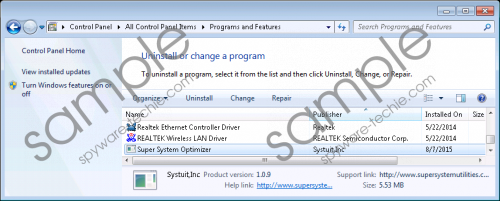 Super System Optimizer screenshot
Scroll down for full removal instructions
So, how can this software appear on your system at all? You may have guessed it already – in free software bundles. And that spells trouble. Why? Because unreliable third parties may include malware infections in bundles, which are most commonly hosted on questionable file-sharing websites. If you happen to install such a bundle and you are not attentive enough, that may easily result in a bunch of infections on your computer. That is why it is important to scan your system either you decide to delete Super System Optimizer or not.
This PUP is a completely unreliable program. When it used to function, it usually returned false scan results. However, our researches have noticed that currently Super System Optimizer does not even have a graphical user interface. Instead, it runs multiple copies of its process in the background while using your system's resources for apparently no reason. Of course, it does raise some questions about its functions. Since a number of antivirus programs identify the executable file as a Trojan, it might give you some ideas what it might be doing while running. But then again, other antivirus programs find it totally fine. Nevertheless, why would you keep a program that you do not even know whatever it does in the background? We believe that your system is a safer cyber space without Super System Optimizer. Do you agree?
If you already feel the need to remove Super System Optimizer, it means that you understand the risks this PUP might put you at. In that case, you will be delighted to know that it is very easy to uninstall this software since it has an uninstaller that you can activate in Control Panel. It is possible that you have never done that before, so please follow our guide below the article which can assist you with the necessary steps. But do not forget about the fact that your computer may still not be all secure. It is important to run a reliable malware removal application to detect and eliminate all infections that may be hiding on your PC. Protect you computer from future attacks if you do not want to spend time hunting down useless and potentially harmful applications, not to mention the possibility that if you do not detect them in time, you might end up having to reinstall your Windows operating system. We believe that nobody wants to get to that point.
How to remove Super System Optimizer from Windows
Windows XP
Click on the Start button and navigate to Control Panel.
Access Add or Remove Programs.
Remove the unwanted program.
Windows Vista & Windows 7
Open the Start menu and go to Control Panel.
Select Uninstall a program.
Uninstall the unwanted program.
Windows 8 & Windows 8.1
Tap Win+X and choose Control Panel.
Click Uninstall a program.
Uninstall the unwanted program.
In non-techie terms:
Super System Optimizer is a program that, unfortunately, does the exact opposite as you would expect: it uses system resources that might even slow down your computer. As a matter of fact, this software has been categorized as a potentially unwanted program. Currently it does not even have a graphical user interface when it runs; it simply starts multiple instances of its executable file. Even if it scanned your system, there is a good chance that it would return false results. This program is totally useless and might also hold some risks for your system's security. Therefore, you are better off removing Super System Optimizer. We recommend the use of a trustworthy antimalware application that will take care of all other possible infections as well that may have entered your computer along with this potentially unwanted program.