Do you know what Super-search.org is?
If you have noticed a sudden change of your web browser's default settings and you were not notified about it in any way, it could be an indication that a program entitled Super-search.org is active on your personal computer. This application has been classified as yet another devious search engine that cannot be trusted entirely. Having it active on your operating system will have a negative effect on your daily online activities as its invasive changes are not easily reversible. As it turns out having this intrusive piece of software active on your PC could prove to be quite dangerous as well. Our researchers have discovered that it could turn out to be the primary reason other suspicious programs could gain access to your PC without a lot of trouble. To understand how this could happen, be sure to read the rest of this detailed report. In the article we also provide a few virtual security tips along with a comprehensive removal guide that you should use to delete Super-search.org in a quick and easy way.
Super-search.org works in a rather simple way. Right after it gains full access to your operating system, it alters your default homepage and new tab page without any notification, which is annoying, to say the least. While at first sight, these changes might not seem like a lot you will gradually realize its overall negative effects on the way you experience the web. For as long as this devious search engine will be active on your PC, you will not be able to start an online session on a website of your choice as you will be forced to use a newly appointed one whether you like it or not. The same will happen in regards to your new tab page; instead of seeing a blank page, you will be presented with a suspicious third-party website. It goes without saying that surfing the web the way you are used to will be virtually impossible due to such functionality of this devious program. Unfortunately, that is not the worst thing about it. Upon further research, it has been discovered that using the search engine in question could prove to be quite dangerous since it might present results embedded with redirect links. This means that clicking on a seemingly harmless search result could lead you to suspicious and even malicious websites. In some instances, just entering a site crafted by malware developers could be more than enough to infect your PC. If you wish to surf the web safely once again, make sure to delete Super-search.org as soon as it is found active on your PC.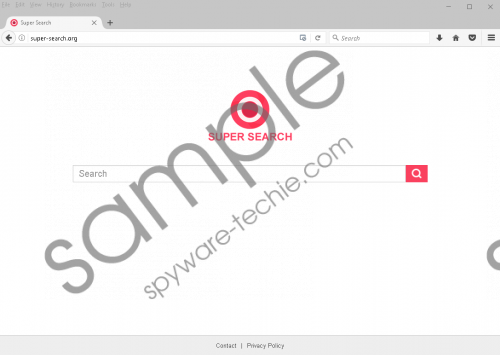 Super-search.org screenshot
Scroll down for full removal instructions
There are a few simple yet very effective steps that you can take to improve your overall virtual security. Firstly, it is important to stay away from all suspicious website and download your software from authorized developers' websites only. This crucial since questionable third-party download site are infamous for hosting installers filled unwanted and even potentially dangerous programs. Additionally, we advise you to pay your utmost attention to every single installation procedure as you might come across a chance to cancel the installation of some undesirable program. This is crucial because too many users infect their operating system with some devious piece of software because they rush the setup process. Keep in mind that malware developers are infamous for using misleading and otherwise manipulative marketing techniques to lure unsuspecting internet users into downloading their devious products. To avoid this, we advise you to always learn as much as you can about the program that you wish to have before even downloading it. Finally, to have a fully secure operating system at all times, you need to have a professional antimalware tool as it can detect and warn you about any potentially dangerous program in advance. Make sure to install such a tool if you do not have one already. By taking these simple preventative steps, you will make your operating system virtually unbreakable.
It should be more than obvious why a removal of Super-search.org is essential. Make sure to use the detailed instructions that we provide below to terminate it in its entirely. It is critical to get rid of this devious search engine in its entirety to regain your web browser's default settings once and for all. Be sure to pay your utmost attention to every single step as a mistake or a missed step could result in an incomplete removal. If you wish to be sure that no traces linked to Super-search.org are active on your PC, make sure to execute an in-depth analysis of your entire operating system as soon as you are done with the manual removal.
How to remove Super-search.org from your PC
Google Chrome
Start your web browser.
Click the Chrome Menu button and select Settings.
Click Show advanced settings and select Reset settings.
Click Reset to confirm your choice.
Mozilla Firefox
Launch your web browser.
Select the Menu button.
Click the question mark icon at the bottom.
Select Troubleshooting Information and click Refresh Firefox.
Click Refresh Firefox to confirm your choice.
Internet Explorer
Open your web browser.
Click the Menu button.
Select Internet Options and click Advanced.
Click the Reset option.
Check Delete personal settings.
Click the Reset button and select Close.
In non-techie terms:
If you find manual removal of Super-search.org a bit too challenging, do not worry. Below we provide an alternative removal guide. By following these instructions carefully, you will be able to delete this browser hijacker automatically.