Do you know what Super-page.com is?
Super-page.com is a search engine that comes exclusively as the homepage and search engine of a browser called ShieldPlus which is a potentially unwanted program. Therefore, we think that you should remove this browser and by extension this search engine. Even though Super-page.com is only part of another program, we are not going to take the holistic approach and focus only on this search engine. Therefore, if you want to find more information about ShieldPlus, we recommend reading our dedicated article. We do not regard Super-page.com as a malicious search engine, but its reliability is next to impossible to verify. We know that it set to promote partner websites by featuring links to them in its search results. The problem is that those links can redirect you to malicious websites. Please continue reading to learn more.
This search engine is owned by a company called Babylon Ltd. This company is based in Israel and to our knowledge its most of its previous software has a bad reputation. So this software developer can be regarded as unreliable, and this tells a lot about Super-page.com. As previously mentioned, this search engine comes as part of a web browser called ShieldPlus. This browser is based on Google's Chromium engine, so effectively it is a cheap knockoff of Google Chrome. For the time being, Super-page.com can only found as this browser's homepage and search engine, but rest assured that that it will be bundled with third-party software and injected into other browsers during the bundle's installation.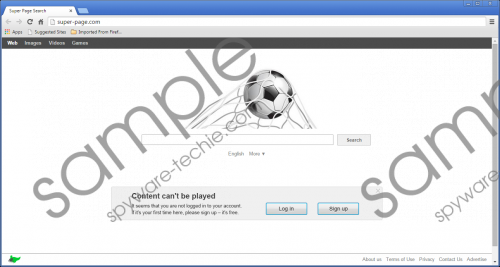 Super-page.com screenshot
Scroll down for full removal instructions
Now let us discuss how Super-page.com operates. In truth, this search engine is fully capable of conducting searches, although the quality of the search results can be debated. One thing is for sure; however, that Super-page.com cannot compete with industry giants, such as Google.com and Bing.com is terms of search quality. Our security analysts have found that Super-page.com is a clone of Delta-search.com and that both of them are hosted on the same server. We argue that both of these search engines were created for the purpose of making money via online advertising. Most of its promoted links should be featured at the very top of the search results. Furthermore, this search engine's main page also contains advertisements that seem to depend on the region you are in. This can further complicate the issue as it becomes increasingly difficult to determine the legitimacy of ads promoted by this search engine.
Whether you want to continue using Super-page.com is completely up to you. However, we advocate for its removal, because it comes from an unreliable developer. This search engine is set to display commercial ads on its main page and include promotional links in its search results. Obviously, the ads only serve to distract you from focusing on the work you may be trying to do. However, the real problem lies in the fact that its promoted links may be unreliable. So we suggest that you remove Super-page.com and its accompanying browser.
How to uninstall Super-page.com and ShieldPlus
Windows XP
Open the Start menu.
Open Control Panel and click Add or Remove Programs.
Find the browser.
Uninstall.
Windows 7 and Windows Vista
Open the Start menu and select Control Panel.
Locate Uninstall a program.
Find the unwanted program and right-click on it.
Click Uninstall.
Windows 8 and Windows 8.1
Open the Charm bar.
Click Settings and select Control Panel.
Open Programs and Features.
Find the undesirable browser and right-click on it and click Uninstall.
Windows 10
Right-click on the Windows Start menu.
Find ShieldPlus and right-click on it.
Click the Uninstall button.
In non-techie terms:
Super-page.com is a mere insignificant search engine that is currently set as the default homepage and search engine for a web browser called ShieldPlus. This browser is regarded as a potentially unwanted program. Therefore, it is recommended to remove both of them from your computer entirely, because Super-page.com's search results cannot be verified as trustworthy.