Do you know what Super Media Converter is?
Super Media Converter is a media converter that is categorized as a potentially unwanted program. This means the program is not a dangerous computer security threat, but it may specific qualities or functions that could be considered suspicious or undesirable. What is more, there is a good chance that you installed this program accidentally, and you have no how it managed to enter your PC. However, there is no need to panic because you can remove Super Media Converter just like any other legitimate program out there: simply uninstall it via Control Panel.
While you are it, you might want to get rid of all the other potentially unwanted programs that might be running on your system at the moment. If you see any unfamiliar applications on the list of programs in Control Panel, delete them at once. Also, there might be some applications that do not have an entry on that list, and they are simply functioning through specific processes. To detect these programs, scan your PC with the SpyHunter fee scanner. It should not take long before all the potentially unwanted programs appear on the results list (that is, of course, if there are any potential threats on your PC to begin with).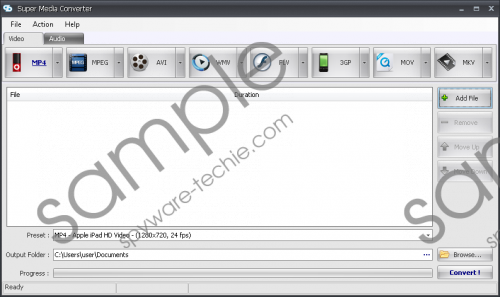 Super Media Converter screenshot
Scroll down for full removal instructions
If you downloaded Super Media Converter from supermediaconverter.com and installed the application willingly, then we do not have much to say about it. We can only encourage you to be careful when this program starts displaying third-party advertisements to redirect you to affiliated websites. On the other hand, if this application was installed along with many other programs, it means it arrived in a freeware bundle you have downloaded from some third-party source. This type of software distribution method is especially popular among adware and browser hijacker creators. Thus, if you happen to have Super Media Converter installed via a third-party installer, this potentially unwanted applications might be the last thing you should worry about.
Nevertheless, if you did not want to have this program on-board, there is no use to keep it on your PC. Sure, it may help you convert media files, but the question is how often you need this kind of service. Also, are you ready to suffer all the third-party advertisements that are likely that come along with Super Media Converter? It is not just about them being annoying. Third-party commercial ads might as well be embedded with unreliable content, and this way Super Media Converter could inadvertently expose you to dangerous websites that collect your personally identifiable information or infect you with dangerous programs.
You definitely need to do everything in your power to avoid severe computer security issues. Aside from removing all the unwanted applications from your computer, you should also do your best to avoid similar issues in the future. For that, you need to invest in a computer security program of your choice. Keep it updated all the time so that it could detect potential threats immediately. Also, stay away from unfamiliar websites that offer freeware, because you might accidentally end up downloading adware and possibly even malware from those pages. For any further computer security related questions, do not hesitate to leave us a comment.
How to Remove Super Media Converter
Windows 10
Right-click the Windows icon and click Control Panel.
Open Uninstall a program and remove Super Media Converter.
Windows 8 & Windows 8.1
Slide the mouse cursor to the bottom right of the screen.
Click Settings on the Charm bar and go to Control Panel.
Select Uninstall a program and remove Super Media Converter.
Windows 7 & Windows Vista
Click the Start menu and open Control Panel.
Go to Uninstall a program and remove Super Media Converter.
Windows XP
Open the Start menu and go to Control Panel.
Access Add or remove programs and uninstall Super Media Converter.
In non-techie terms:
Super Media Converter is supposed to be a professional tool that converts audio and video files from one format to the other. The program works on the Windows operating system, and it promises to significantly improve your overall file converting experience. Nevertheless, the program exhibits particular features that might prove to be quite alarming computer security wise. Therefore, if it was not your plan to have this application on your PC, you are strongly advised to remove Super Media Converter right now.