Do you know what SucyLocker Ransomware is?
SucyLocker Ransomware is a computer infection based on the open-source Hidden Tear ransomware. It means that the program comes from a big group of similar infection that mainly aims to get as much money as possible by forcing users to pay the ransom fee.
Technically, the ransom fee is necessary to restore the encrypted files that were affected by the infection. However, while some infections do issue the decryption key, it is far more likely that this program in question will not do so. Therefore, rather than looking for ways to throw away your money, you should remove SucyLocker Ransomware from your PC.
To be honest, we have discussed this infection about a month ago. The original name of this intruder is $ucyLocker Ransomware and you can find the description on our website. On the other hand, perhaps other users would be more inclined to look for information about this infection using the newer keyword. Hence, we are writing this article, too. However, the removal process is still the same, so you will find that the removal instructions below this description and the one released a month ago are practically identical.
Since this program is based on an open-source Hidden Tear ransomware code, the program is somewhat similar to Oxar Ransomware, Unikey Ransomware, Resurrection Ransomware, and many others. It means that it employs the same distribution methods, and if you know how a ransomware program enters your computer, it should be possible to avoid it altogether. The most common method of ransomware distribution is spam emails.
You do not get infected with the ransomware just by opening a spam email. Normally, you need to also download and open the attached file that carries the infection. Users often download these files because they think the files might carry some important information. However, instead of carrying the information users want to obtain, these files infect them with SucyLocker Ransomware the moment they open those files.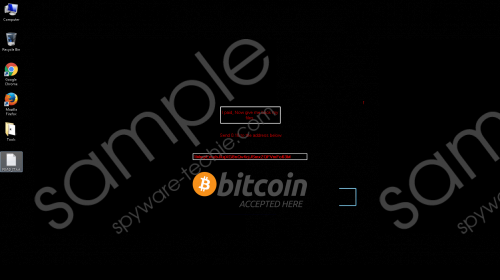 SucyLocker Ransomware screenshot
Scroll down for full removal instructions
It is always possible to avoid getting infected with this ransomware program. We have mentioned this several times, but users should not open emails from unfamiliar senders. Also, sometimes these spam mails look like notifications from online stores, banks, and other reliable companies. But if you have never interacted with those entities before, getting an email from them should at least look suspicious. Finally, if you still need to open a file, you can always scan it with a security application.
The original file of the infection that launches the program is called VapeHacksLoader.exe. However, once the program is launched, the ransomware displays the main program window, and then encrypt all the text files on your desktop. It will also disable your Task Manager, but that does not prevent you from deleting the infection. Not to mention that the program does not start with Windows or lock your screen. So in general, dealing with SucyLocker Ransomware is not as frustrating as working with a number of other similar programs.
Once the encryption is complete, all the affected files will have an additional extension added to them. And that is a very common thing among all ransomware infections. It will leave the original filename intact, but if, for example, it was Flower.jpeg, after the encryption the filename will look like Flower.jpeg.WINDOWS. Needless to say, it will not be possible to open the encrypted file.
Right when users start looking for ways to restore their files, this infection displays the ransom note that says this:
Your Files are locked. They are locked because you downloaded something with this file in it.
This is Ransomware. It locks your files until you pay for them. Before you ask, Yes we will
give you your files back once you pay and our server confirm that you pay
The program expects you to pay over $400USD in bitcoins for the decryption tool, but you should remove SucyLocker Ransomware without paying anything. In fact, transferring the money does not guarantee that the criminals would actually issue the decryption key. So you should rely on external backup drives and perhaps various cloud storages to get your files back.
If you encounter problems when you try to remove this ransomware program, please do not hesitate to contact us.
How to Delete SucyLocker Ransomware
Remove the most recently opened files.
Open your Downloads folder.
Delete the most recently downloaded files.
Remove the READ_IT.txt from Desktop.
Run a full system scan.
Open Windows Task Manager
Press Win+R and type gpedit.msc. Click OK.
Press User Configuration on the left and go to Administrative Templates.
Open System and go to Ctrl+Alt+Del Options.
Double-click Remove Task Manager on the work area.
Change the value to Disabled or Not Configured.
Exit Group Policy Editor and restart your computer.
In non-techie terms:
SucyLocker Ransomware is one of the many ransomware programs out there that can turn your day into a nightmare. People seldom understand the potential risks that can lead to a ransomware infection. However, if you know that by opening a certain file you expose yourself to potential infection, you should always think twice before doing that. Remove SucyLocker Ransomware from your system, and make sure you do not get infected with similar intruders again.