Do you know what StreamlinedDIY Toolbar is?
StreamlinedDIY Toolbar is a useless undesirable browser extension, but its developers insist that it is unique and can help you "Do Almost Anything." Yet, it offers nothing of real value, and the sooner you remove it, the better. Apart from that, this extension is designed to replace your browser's homepage and new tab page addresses to force you to use its featured search engine. The search engine is an integral part of this toolbar as this toolbar is just a vessel for carrying it on your browser.
Let us begin our analysis with StreamlinedDIY Toolbar's origins. As it turns out, it is yet another release by the infamous IAC Applications, a company that recently changed its name from Mindspark. This company is dedicated to releasing browser-based extensions and programs that are labeled either adware or as a potentially unwanted program. In the past, we analyzed various other toolbars created by this company. PackageTracking Toolbar, FlightSearch Toolbar, and SMSFromBrowser Toolbar were also published by this company, and our research has shown that they are undesirable and malicious. So there is no reason to trust this company because it just changed its name — not its ways.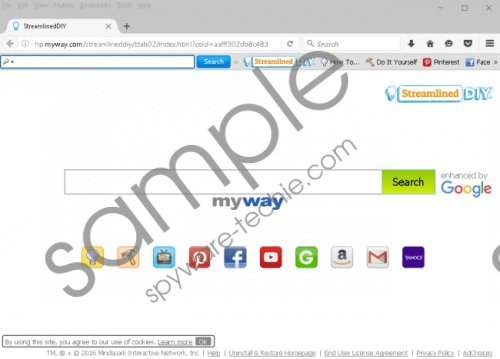 StreamlinedDIY Toolbar screenshot
Scroll down for full removal instructions
As for this browser extension's distribution methods, our malware researchers have found that you can download this program from its main website at Streamlineddiy.com that was set up to host this program specifically. This website does not have too much information about this extension, but it proudly declares that "StreamlinedDIY provides these features and web search on your Homepage & New Tab." Therefore, it is clear that this toolbar is not supposed to help you do anything. Also, you can Find it on the Chrome Web Store if are using Google Chrome. However, there is one distribution channel that is somewhat questionable. Researchers say that you can install this extension accidentally while installing a software bundle from a free software distributing site. The bundles may hide StreamlinedDIY Toolbar's presence or not allow you to deselect its installation altogether. So be sure to opt for custom or advanced installation settings whenever you install an unknown application.
Once on your computer and your browser, StreamlinedDIY Toolbar will waste no time and replace your homepage and new tab page immediately. We do not have a shadow of a doubt that the purpose of changing your browser's settings is to show you promotional links and advertisements that are supposed to be presented in the search results. The search engine it comes with is Hp.myway.com, but it uses Google's search results, so there is no benefit to you to have this search engine if you previously had Google.com. In fact, by using Hp.myway.com, you will be worse off because it features promotional links that come from unknown entities and can compromise your computer's security. Indeed, this search engine can redirect you to questionable and even malicious websites that feature links to malware downloads.
We have also found that Hp.myway.com can collect anonymous information about you automatically and use it to customize the adverting campaign. Its Privacy Policy states that this search engine can automatically gather information such as "IP address, your browser type and language and other browser-related information, a time-stamp, the keyword query, search query text, search results clicked, pages viewed, search history, the content of any of our undeleted cookies," and so on. Furthermore, this information can be shared with third parties, and the developers may also make money from sharing it. Any personal information you provide to, StreamlinedDIY Toolbar's tech support and whatnot will be stored as well and will supplement the anonymous information.
In conclusion, StreamlinedDIY Toolbar is a malicious browser extension that is set to replace your browser's new tab page and homepage addresses with Hp.myway.com without your knowledge or approval. It is designed for this purpose specifically to make you use this search engine for browsing the web. Its search results can be altered to accommodate promotional links of unverified legitimacy. Therefore, we believe that it is malicious and you should remove as soon as the opportunity arises.
Remove the extension from the browser
Mozilla Firefox
Press Ctrl+Shift+A.
Click Extensions.
Find StreamlinedDIY Toolbar.
Click Remove.
Restart the browser.
Google Chrome
Press Alt+F.
Click More tools.
Go to Extensions.
Find StreamlinedDIY Toolbar.
Click Remove.
Uninstall the program from Control Panel
Windows 10
Right-click the Start menu.
Click Control Panel and go to Uninstall a program.
Find the software and double-click it.
Click Uninstall.
Windows 8/8.1
Open the Charm bar.
Click Settings and select Control Panel.
Open Uninstall a program.
Find the program.
Click the Uninstall button.
Windows Vista & 7
Click the Start menu button.
Open Control Panel.
Go to Uninstall a program.
Find the undesirable application.
Right-click it and click the Uninstall button.
Windows XP
Open the Start menu.
Open Control Panel.
Select Add or Remove Programs.
Find application and click Uninstall.
In non-techie terms:
StreamlinedDIY Toolbar is a malicious toolbar that you ought to get rid of, but its developers insist that it is reliable and free to use. It may be free, but our researchers have come to the conclusion that it is an ad-supported program since its accompanying search engine is configured to show promotional links. Since these links come from unknown sources and can pose a danger to your PC, we suggest that you delete this extension.