Do you know what Strato Music is?
Although Strato Music might seem like an application designed for music streaming or downloading, it appears to be an adware program that was developed to generate revenue from advertising. The software only shows a couple of links to sites where you might be able to stream or download music. However, the main goal is to display numerous third-party ads that would be the most interesting for the user. You should ignore these ads and try to interact with them as little as possible. These ads could lead you to malicious web pages, or it could promote untrustworthy products and services. In fact, there is another problematic aspect of the software that you should be aware of. The application could gather your personal information, and if you want to know how it could collect it, you should keep reading the article.
The application could be spread bundled with other freeware, which means that some users might have downloaded it not intentionally. Perhaps you entered an untrustworthy file-sharing site and got a bundled installer from there. If it contained Strato Music, it should have been suggested to you in the setup wizard. Meaning, that you either believed that the program might be handy to you or you simply did not notice it.
Moreover, as we tested the program in our internal lab we noticed that it could be downloaded from stratomusic.com site too, but the installer might be bundled with applications, such as browser hijackers or potentially unwanted programs (PUPs). What's more, after the installation is complete the adware might ask you to submit your personal information for registration.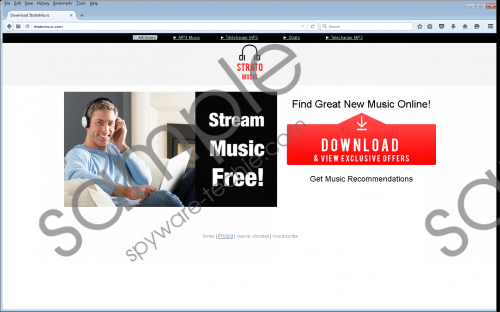 Strato Music screenshot
Scroll down for full removal instructions
This registration is also mentioned in the software's Privacy Policy statements as one of it says that "By choosing to participate in our Program, you must become a Member by disclosing the following information, such as: your email address, name, address, phone number and birth date." Such information is considered private or sensitive and revealing it to the creators of a suspicious adware applicationmight be not the best idea. Especially, when they claim that "Your personal information is accessible by the [PRODUCT] administrator(s). We may also share your data with interested third parties." We can only assume that Strato Music's creators will use your information for marketing purposes or to bring you targeted ads, but third-party companies might have other uses in mind.
Besides the privacy issues, the application seems unreliable because it provides third-party advertising. You have to click the ad to enter third-party sites, but some of them could be loaded on new browser windows and tabs without your permission. We noticed that the adware might redirect you to sites like sweepstakesshopping.com, paidsurveyupdate.com, which could also require your personal information. What's more, you might be redirected to sites that promote different adware, PUPs, browser hijackers and other untrustworthy software.
To conclude, the adware might be trying to disguise itself as a tool for users who enjoy music, but the research shows us a different view. The application displays irritating pop-ups and other kinds of advertising that could lead you to potentially malicious web pages. Additionally, there is a chance that either Strato Music or its third-party partners could gather your personal data. If you do not want to take these chances, you should erase the program from your computer. For instance, you could slide below this text and use the provided removal instructions. Also, you can download a legitimate antimalware tool and use it to eliminate the adware.
Delete Strato Music
Windows 8/Windows 10
Press Win+R to launch the RUN.
Type Control Panel and press Enter.
Click Uninstall a program.
Mark Strato Music and click Uninstall.
Windows Vista/Windows 7
Navigate to the Start menu.
Launch Control Panel.
Choose Uninstall a program.
Select the adware and click Uninstall.
Windows XP
Go to Start and select Control Panel.
Click Add or Remove Programs.
Find the application, select it and press Uninstall.
In non-techie terms:
The application will not allow you to stream or download music through it since it does not have such features. Although it provides links to sites where you could stream music, it is unnecessary to have Strato Music installed if you want to access them. As you realize, the application comes with particular risks and the best way to avoid them is to delete the adware. To eliminate the program you could follow the removal instructions placed above or install a security tool that will do this task for you.