Do you know what Startsearch.info is?
Do not expect Startsearch.info to enhance your browsing experience even though this search tool looks quite trustworthy because it is far from being a reliable search tool. Actually, it has been even classified as a browser hijacker by our researchers. They, of course, do not call Startsearch.info an unreliable search tool just for fun. Several disturbing findings have been made about this search tool, showing that it is far from Google, Yahoo!, or other reputable search engines. Its first drawback is its ability to set itself as a homepage on all browsers. Second, the search results shown by this search tool might be quite dangerous. Finally, Startsearch.info might track users to find more information about their online activities and habits. Even though this information is mainly non-personally identifiable, there are no guarantees that personal details will not be recorded and your identity is safe. Decide yourself whether or not it is worth keeping a questionable search tool set on Internet Explorer, Google Chrome, and Mozilla Firefox. The information provided in this article will definitely help you to make up your mind.
Specialists do not recommend keeping Startsearch.info set on browsers. Using it as a default search tool is not such a good idea too because it has been found that this search tool displays advertisements for users. They look like ordinary search results, but they are called advertisements because they primarily promote third-party websites and might not be based on the entered search query at all. They are harmless if users do not click on them, but, unfortunately, it seems that many users who discover Startsearch.info on their web browsers use it to search for the information on the web because it looks reliable, meaning that sooner or later they will all encounter these advertisements. These commercials might promote all kinds of websites, both good and bad, so users might end up on hardly trustworthy websites and experience security-related problems. Malware might be downloaded on your PC even if you leave a bad page immediately. It is always a risk using search tools set up on browsers without permission because they tend to be problematic. The presence of promotional links and ads is usually not their only problem.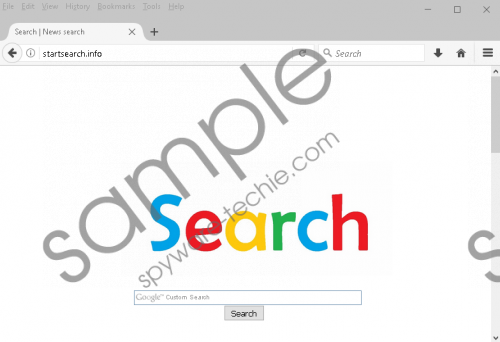 Startsearch.info screenshot
Scroll down for full removal instructions
Our team of specialists can find out everything they need to know about software/search tools themselves, but they have still decided to check the Privacy Policy document to find out what information is provided for users and if it does not lie to them. First of all, it is said there that only information entered on the website willingly will be recorded. It seems that it does not matter whether it is personal or non-personally identifiable because all submitted details are recorded. Luckily, there is one sentence in this document assuring that information which can identify users personally is safe: "Your personal information is contained behind secured networks and is only accessible by a limited number of persons." Of course, it is good to know that the provided information is in good hands; however, it does not mean that users should not put an end to this activity. You should go to stop the collection of information to make sure that privacy-related problems do not arise. This can be done only by fully erasing Startsearch.info from browsers.
Free Russian applications promoted on untrustworthy third-party websites are the ones that come in bundles with the Startsearch.info browser hijacker. The browser hijacker is usually presented as an additional offer, and users confirm the installation of additional software without even realizing that. Evidently, users do not read the information provided for them and skip the installation steps too quickly. At the time of writing, the most inattentive users live in India and Pakistan because this infection is the most prevalent there. There is a way to protect the computer from future dangers – go to install a security application right after the Startsearch.info removal from browsers.
Keeping Startsearch.info set on browsers would be a sin because this search tool might cause a number of serious problems. Luckily, it can be removed quite easily – users just need to reset their browsers one by one to their default settings. An automatic tool, e.g. SpyHunter can do this for you too.
Delete Startsearch.info
Google Chrome
Open your browser.
Press Alt+F simultaneously.
Click Settings.
Scroll to the bottom of the page and then click Show advanced settings.
Click Reset settings.
In the pop-up confirmation window, click Reset.
Internet Explorer
Open Internet Explorer.
Click Tools at the top to open the menu.
Select Internet Options.
Click on the Advanced tab to open it.
Click Reset.
Enable the Delete personal settings option.
Click Reset again in the pop-up window.
Mozilla Firefox
Launch your Firefox browser.
Open the Help menu by tapping Alt+H simultaneously.
Click Troubleshooting information.
At the top of the page locate Refresh Firefox and click on it.
Click the Refresh Firefox button one more time.
In non-techie terms:
Startsearch.info is an untrustworthy search tool which might present links causing redirections to devious websites. The silent installation of malicious software might start immediately after entering a bad page, so do not risk ending up there by using Startsearch.info as your default search provider. Deleting Startsearch.info from browsers might not be enough to clean the system because this threat could have been installed together with other undesirable programs, so do not forget to perform the system scan with a reputable scanner.