Do you know what Startme.online is?
Startme.online is one of a couple of newly emerged questionable search engines that are practically identical clones of each other with the only difference in their URL. Our researchers have found that, for example, Startme.today is another one from this new group. We do not know anything about the creators since none of these search engines seem to have any legal documents shared, which is one of the most suspicious traits this search engine exhibits right now. By looking at this search website, you would feel that nothing has actually changed in your major browsers because it appears to be very similar to your default pages you have become accustomed to. This could also be a trick. What if the creators want to spread this search engine and make unsuspecting users believe that it is all trustworthy and when a critical mass has been reached, the "real deal" will come to light and it will start promoting all kinds of third parties that may not always be reliable. Since no legal document says otherwise, you need to be prepared for anything. This is why we suggest that you remove Startme.online as soon as possible.
It is in fact quite easy to have this search engine in your browsers. Sometimes it is enough for you to simply click on the wrong web content, such as an unsafe third-party advertisement, a corrupted link, a fake button, and the like. One click and you could either redirect to this search engine page or drop infections onto your system. You can easily click on unreliable content when you are viewing suspicious websites usually related to online betting, gaming, dating, file sharing, and porn. If you have never landed on such sites before, it is unfortunately possible that your computer is infected with malware like adware and browser hijackers. Such infections can display unreliable third-party ads and links that can again redirect you to this search engine or drop bundles of infections onto your machine. No wonder why we always say that you need to watch your clicks whenever you are surfing the web and even more so, if your PC is infected.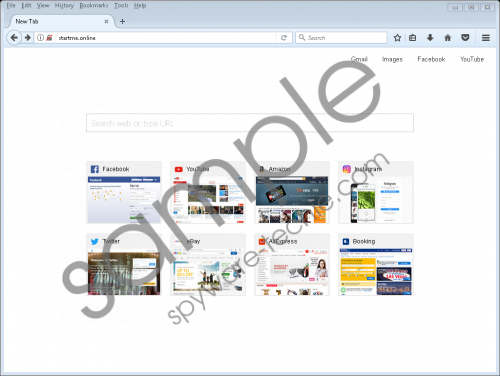 Startme.online screenshot
Scroll down for full removal instructions
Another option is that you have let a malicious bundle on board and this is how this search engine shows up in your browsers. Such a software package can contain several malware threats and potentially unwanted programs as well. They are usually promoted by questionable file-sharing websites run by schemers. It is easier to end up on such a page than you think. For instance, you want to download a new free application; what would you do? Most people would probably run a web search to find a website where the targeted software is available for download, right? Well, unfortunately, some of these malicious file-sharing pages cannot be filtered out by even the most popular search engines either. Although, it is possible that an updated browser with the warning option turned on would actually send you a warning page before loading a page that could contain potential threat. Still, a lot of users end up on fake and malicious torrent and freeware pages. So when you download your desired software, you may overlook the rest of the pack and the result could be devastating and you could install adware programs, browser hijacker, ransomware programs, keyloggers, backdoors, fake alerts, and more in one single go. We advise you to scan your PC with a proper malware scanner tool after you delete Startme.online to make sure that no threat remains on your system.
This search engine seems like the most innocent search website ever. In fact, it seems too innocent and too professional maybe; yet, it does not use its own search engine to display search results. Instead, it redirects you to Google. How convenient. The most worrisome factor about this search engine at the moment is that there are no legal documents shared, which is very suspicious since you cannot know anything about third-party policies and more. This could easily mean that this search engine might start spying on you gathering data and sell it to third parties. But it might as well start third-party promotion to generate web traffic and make money out of it for its creators. All in all, we do not trust a service that has no EULA or Privacy Policy, and we advise you to do the same. In fact, we recommend that you remove Startme.online right now.
Since there is a chance that this search engine changes the Target line of your browser shortcuts to make sure that is remains your homepage every time you open a browser even if you may change the browser settings, it is advisable to check these setting first, before you reset all the affected browsers. Please follow our guide below if you want to tackle this potential threat manually. If you want to make sure that no harm will be done to your system in the future, you should consider having a powerful up-to-date anti-malware program on board, such as SpyHunter.
Restore the Target lines
Right-click on your browser shortcut on your desktop.
Choose Properties and select the General tab.
Uncheck the Read-only box.

Select the Shortcut tab.
Delete the string in the Target line field after the quotes. Press OK.
Right-click on the shortcut on your Taskbar to open the menu.
Right-click on the browser name option at the bottom.
Repeat steps 2 to 5 to restore the Target line.
Remove Startme.online from your browsers
Internet Explorer
Tap Alt+T and select Internet Options.
Choose the Advanced tab and click Reset.
Select the Delete personal settings checkbox.
Click Reset.
Click Close.
Mozilla Firefox
Tap Alt+H and select Troubleshooting Information.
Click Refresh Firefox at the top of the page.
In the pop-up window, click Refresh Firefox once more.
Google Chrome
Tap Alt+F and select Settings.
Scroll down and click Advanced.
Scroll down and click Reset.
Click Reset in the pop-up window.
In non-techie terms:
Startme.online is a new search engine that comes from a new family of totally identical clones. This search engine looks completely reliable and professional; yet, it has no legal documents shared (EULA, Terms of Use, or Privacy Policy), which is usually the first suspicious sign about a service or product. For this reason, it does not really matter that this search engine shows unmodified Google search results right now as this can change any time. This search engine might also start gathering information about you and your online activities to use this to send customized content to your screen. Since there is no official or legitimate ways for you to have this search engine in your browsers, it can also slither onto your system in the company of malware infections and other threats. We recommend that you remove Startme.online right away because it might start exposing you to questionable third-party content and thus pose a threat to your system security. If you cannot seem to be able to protect your system against potential and malicious threats, we advise you to install a professional anti-malware program; the sooner, the better.