Do you know what start.iminent.com is?
Start.iminent.com is a search website that is associated with Iminent Toolbar. Some users are inclined to consider it a browser hijacker, but the truth is that if your home page and search engine are modified to start.iminent.com; you most probably have initiated the change yourself. Therefore, it is necessary to remain attentive whenever you install free software applications on your computer. If it was not your intention to have this extension your computer in the first place, you are strongly recommended to remove start.iminent.com from the system right now.
There are at least three ways to download start.iminent.com onto your computer. For one, you can download the toolbar that changes your browser's home page to start.iminent.com from the official Iminent Toolbar website at imminent.com/Download. During the setup you are allowed to choose whether you want your home page changed or not. If you want to opt out, you simply need to uncheck the option boxes on the Iminent Toolbar setup wizard. Second, the application can be downloaded from a third party website, such as Cnet. There are a lot of web pages that host freeware, and consequently, there are websites that distribute freeware in packs.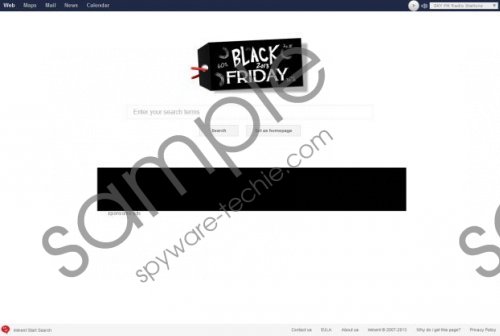 Start.iminent.com screenshot
Scroll down for full removal instructions
This is where we come across the third way of start.iminent.com distribution – bundled downloads. Basically, if you download a freeware application from a third party website, and it is packed together with Iminent Toolbar installation file, chances are your browser's default home page will be changed to start.iminent.com as well. Naturally, since you agree to the program being installed on your computer, start.iminent.com cannot be classified as a browser hijacker or a computer infection. However, there are still a few security risks you should take into consideration.
Start.iminent.com is a free of charge website, so it survives on advertising, by displaying various pop-ups and redirecting you to affiliated third party websites. Since the application does not have an advertising network of its own, it delves into a third party network for the commercial content, and therefore, basically anyone could embed their content into start.iminent.com as long as they knew how to. Consequently, if the application is exploited by malevolent third parties, in the long run you could get infected with malware.
That is obviously not a definite scenario when you have Start.iminent.com set as your default home page, but still, it is for the best to terminate Iminent toolbar and remove Start.iminent.com from your browser, in order to avoid any possible security threats. Since this application may also come with other freeware programs, you ought to remove them as well. If you do not know which programs are supposed to be removed, scan your PC with SpyHunter free scanner and all the potential threats will be detected at once.
Manual Start.iminent.com Removal
Windows 8
Move mouse cursor to the bottom right of the screen.
Click Settings on Charm bar and select Control Panel.
Open Uninstall a program and remove Iminent.
Windows Vista & Windows 7
Open Start menu and click Control Panel.
Go to Uninstall a program and remove Iminent.
Windows XP
Open Start menu and go to Control Panel.
Select Add or remove programs and uninstall Iminent.
Remove Start.iminent.com from browser
Internet Explorer
Press Alt+X and go to Manage add-ons.
Click Search Providers on the left pane.
Set a new default search engine, and remove Search the Web (Iminent).
Mozilla Firefox
Click search icon on the left of the search box (top right corner).
Select Manage search engines from drop down menu.
Remove Search the Web (Iminent) from the list and click OK.
Google Chrome
Press Alt+F and go to Settings.
Scroll down to Search and click Manage search engines.
Set a new default search engine, delete Search the Web (Iminent) and click Done.
In non-techie terms:
Start.iminent.com is a potentially unwanted application that modifies your browser settings. It could be related to a number of computer infections, so it is for the best to remove Start.iminent.com right now.
Aliases: iminent.com.