Do you know what Speedcheckme is?
If your browser has been filled with numerous third-party commercial adverts and annoying pop-ups, the reason behind it might be an adware program called Speedcheckme. Quite a few unsuspecting users get lured into installing this worthless application because it is advertised as a tool, which is capable of determining your Internet connection speed correctly. Unfortunately, all these promises made by vendors are false, to say the least, because only a handful of legitimate applications are capable of doing this. If Speedcheckme is found on your operating system removal should be executed immediately, as in some cases this adware program could expose your PC to suspicious and potentially malicious web content. Do to hesitate and use the removal guide provided below to delete Speedcheckme once and for all.
Malware experts at Spyware-Techie have thoroughly analyzed this intrusive adware program and have found out that it is identical to dubious programs such as SpeeditApp, TestSpeeder, Ineedspeed and quite a few others. So functionality of Speedcheckme does not differ from its counterparts. As soon as Speedcheckme gains access into your operating system, your browser will be presenting you non-stop with tons of adverts and pop-ups.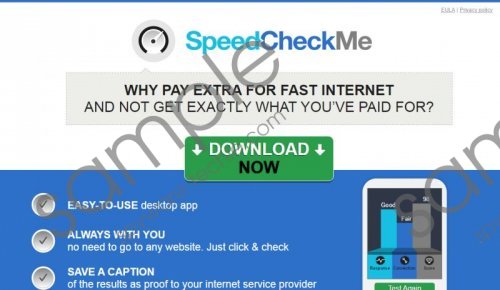 Speedcheckme screenshot
Scroll down for full removal instructions
Even though at first pop-ups might seem only annoying, you should know that there is something much more to them. Often Speedcheckme will present you with fake Flash player update pop-ups. These pop-ups are a major virtual threat, to put it mildly. In most cases fake Flash player updates are used to distribute malware; thus, by allowing such update to take place your system will most likely get infected with some unknown malware. Keep in mind that authentic Flash player updates automatically and does not present you with pop-ups. We strongly advise you not to click on any adverts or pop-ups that Speedcheckme present you with. Do not take any chances with Speedcheckme as it could have devastating outcomes. Removal of this intrusive adware is essential if you want to keep your system clean, secure, and fully functioning.
Do not hesitate and remove Speedcheckme because as long as this invasive adware program is running on your system, your PC is at constant danger of getting infected with some other Internet-based infection. It is very important to remove every bit of Speedcheckme as in only a few active files on your operating system could trigger a restoration process, so your effort while removing Speedcheckme could turn out to be worthless.
How to remove Speedcheckme
Remove Speedcheckme from Windows Vista and Windows 7
Tap the Windows button and select Control Panel.
Click the Uninstall a program option.
Remove Speedcheckme.
Remove Speedcheckme from Windows XP
Click Start.
Select Control Panel.
Click Add or Remove Programs.
Uninstall Speedcheckme.
Remove Speedcheckme from Windows 8
Move the mouse pointer to the lower-left corner of the screen.
Right-click.
Select Control Panel.
Click Uninstall a program.
Remove Speedcheckme.
In non-techie terms:
It is important to remove every bit of this invasive adware application. Sometimes manual removal might be too overwhelming that is why we provide an alternative removal method. If you wish to execute it, please follow the instructions provided below.