Do you know what Speedchecker PC Speed Up is?
If your computer is running slower than usual, you might be interested in installing Speedchecker PC Speed Up. Even though this application seems to be beneficial, you must not forget that its services are not free. The scanner provided by this app via pcspeedup.com is free, which is why computer users are often surprised that they need to pay $29 to register for the services. Due to this, we identify Speedchecker PC Speed Up as a potentially unwanted program (PUP). If you don't want to pay money for its services, you should delete Speedchecker PC Speed Up from your PC without any hesitation.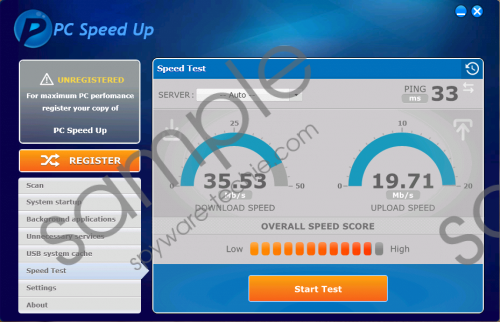 Speedchecker PC Speed Up screenshot
Scroll down for full removal instructions
Speedchecker PC Speed Up will ask you to restart your PC to start the so-called startup optimization. This application is meant to provide you with a free Windows boot time optimization. How does this work? The scanner identifies which toolbars, add-ons, and junk files you need to remove and which unnecessary services and settings you need to disable. The amount of components that Speedchecker PC Speed Up suggests removing (see example of a warning below) is quite shocking, which is why many users choose to follow the advice to delete the items that are slowing down their operating systems. We are sure you can find software that offers the same services for free and that don't use intimidating warnings to convince users that they need to pay money to have potentially harmless files removed.
Attention! [number] items are slowing down your PC
FIX PROBLEMS
If you have decided to delete the potentially unwanted program developed by Optimal Software s.r.o., you can follow the removal instructions below. Even the least experienced users should be able to remove Speedchecker PC Speed Up successfully using our guide. Have you installed this PUP bundled with other applications? Even though you might be able to remove these manually as well, we suggest using a malware scanner to make sure that you don't leave out any malware. Are you having difficulties removing Speedchecker PC Speed Up-related software? If you are, go ahead and install an automatic malware remover which will also keep your PC guarded against the undesirable software in the future.
Remove Speedchecker PC Speed Up
Remove from Windows 8.1/Windows 8
Launch RUN (simultaneously tap Win+R) and enter Control Panel.
Move to Uninstall a program and find the undesirable software.
Right-click the application you wish to delete and select Uninstall.
Remove from Windows 7/Windows Vista
Click the Windows icon located on the left of the Taskbar.
Open the Control Panel menu and select Uninstall a program.
Right-click the application you wish to delete and select Uninstall.
Remove from Windows XP
Click Start on the Taskbar and open the Control Panel menu.
Double-click Add or Remove Programs to find the installed software.
Click the undesirable program once and select Remove.
In non-techie terms:
Speedchecker PC Speed Up is a PUP that you might consider removing from your operating system. The manual removal instructions above will surely help you delete Speedchecker PC Speed Up from your PC. However, we advise using automatic malware removal software for the removal of other unfamiliar programs. If they have already corrupted your PC, and you cannot operate it in a normal manner, you might find the removal guide below useful.