Do you know what SPCOptimizer is?
SPCOptimizer is a PC optimization tool developed by Suresh Technologies. It promises to increase the performance of computers and "enhance browsing and computer speed by cleaning the temp and unused files." If we took into account only the description of this program that can be found on its official website spcoptimizer.com, it would seem that it is really worth having SPCOptimizer installed on the computer. Research carried out by our team of specialists has shown that this software really works quite well. In other words, it cleans cookies, browsing history, temporary files, Windows log files, and other unnecessary components that can be found on the system. At first glance, SPCOptimizer might seem to be an ordinary PC optimization tool; however, specialists who have tested it still cannot call it a fully reliable piece of software. Instead, they classify SPCOptimizer as PUP, or a potentially unwanted program. There is no doubt that there is a reason why specialists have put it into this category. Read this article to find out what lies behind such a decision. This article will help you to decide whether or not to keep SPCOptimizer installed too.
SPCOptimizer scans the system and works quite well; however, there are two main reasons why it has been classified as a PUP. First of all, specialists have found out that this piece of software has several bugs, so it might not work properly, e.g. it might crash. Secondly, specialists have doubts about its usefulness. Yes, this application removes unnecessary components, e.g. empty registry keys; however, it does not mean that the removal of these keys will boost your PC's performance or will have a positive impact on the stability of your system. Last but not least, it does not have the Privacy Policy, so users cannot know whether this program treats their privacy with respect. If this bothers you too, you should remove SPCOptimizer from your system. Hundreds of reliable optimizers exist these days, so you will definitely find a more trustworthy one to install instead of SPCOptimizer.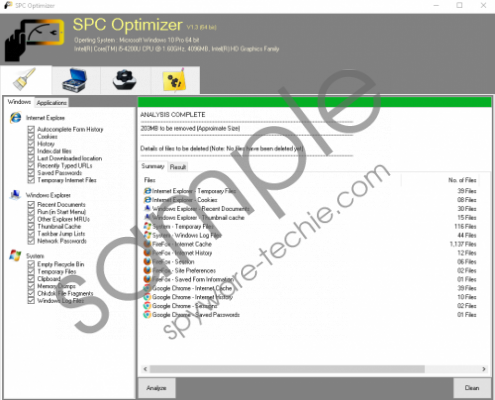 SPCOptimizer screenshot
Scroll down for full removal instructions
Researchers cannot call SPCOptimizer the most trustworthy PC optimization tool also because it can come in software bundles. In other words, it might enter your computer with the help of other applications in software packages. Even though it travels in software bundles, it does not mean that it enters computers secretly because users are informed about the installation of this program in the setup wizard. Of course, there are users who get it from spcoptimizer.com too. It does not matter where you get this PC optimization tool from because it will still add its folder to C:\Program Files (x86) or C:\Program Files. In addition, it will create its own registry keys, e.g. HKEY_LOCAL_MACHINE\SOFTWARE\Wow6432Node\Microsoft\Windows\CurrentVersion\Uninstall\SPCOptimizer 1.3 and HKEY_LOCAL_MACHINE\SYSTEM\CurrentControlSet\services\eventlog\Application\PCOptimizerService. Finally, you should see a shortcut of this application on Desktop. Therefore, it will not take much time to realize that SPCOptimizer is installed on the system.
Potentially unwanted programs are not very dangerous applications; however, it has been found that more harmful infections, e.g. browser hijackers and adware are spread via software bundles too, so you need to be careful. What you can do to prevent undesirable software from entering your PC is to carefully install new programs and always read the information provided in setup wizards to be able to find out that additional applications are going to be installed and thus decline the installation. On top of that, you need to install a reputable tool for protecting your PC from harm.
SPCOptimizer can be deleted through Control Panel because it has an uninstaller (SPCOptimizer 1.3). In other words, it can be erased like any other ordinary application. If you have never tried erasing an unwanted program yourself, you should follow our step-by-step removal guide. Alternatively, you can scan your system with a reputable malware remover, e.g. SpyHunter.
Remove SPCOptimizer
Windows XP
Click on the Start button.
Select Control Panel and then click Add or Remove Programs.
Select the program you wish to erase.
Click Remove.
Windows 7/Vista
Open the Start menu.
Open Control Panel and then click Uninstall a program.
Right-click on SPCOptimizer.
Click Uninstall.
Windows 8/8.1/10
Click on the lower-left corner with the right button of your mouse.
Select Control Panel from the menu.
Click Uninstall a program.
Uninstall the undesirable application.
In non-techie terms:
Potentially unwanted programs are not very dangerous threats, but it is still better to remove them because they might act in an undesirable way. In some cases, these applications also enter computers together with other programs that are not always reliable. Therefore, you should scan your PC with a reliable diagnostic scanner to check the system after the deletion of SPCOptimizer. If the scanner detects other threats or malicious components, delete them all as soon as possible.