Do you know what Spartacus Ransomware is?
If Spartacus Ransomware manages to sneak onto your system, it is quite possible that you will have all your personal files taken hostage within a minute or so. Obviously, the efficiency and speed of such a vicious program depends on the number of files affected and the performance of your PC, too. This also means that you will not have enough time to abort this ransomware even if you were to realize what is going on in the background. But our researchers say that it is highly unlikely that you would notice anything until it is too late and you will see the ransom note on your screen. You may actually believe these villains that if you pay the ransom fee, you will get your files back; however, we believe otherwise. It is, in fact, more likely that such cyber criminals infect you with yet another threat than decrypt all your files after you pay. We strongly recommend that you do not waste your time and remove Spartacus Ransomware right away. Please read our full report so that you learn how you can protect your computer more efficiently against such dangerous threats in the future.
Have you opened a suspicious mail recently? Did you click to see its attachment? Why are we asking these? Well, chances are this is how you infected your system with this serious threat. It is enough for you to open a spam mail that has this ransomware as its attachment and you may let it on board without even noticing it. Spamming has changed and evolved a lot over the past 10 years. It used to be quite easy to notice one in your inbox and spam filters have also evolved. So nowadays it is more difficult to realize that you are dealing with a dangerous spam. This mail, for example, can look completely normal to you without having the shadow of a doubt about its reliability. The subject may claim that you gave the wrong credit card details while shopping online, your parcel could not have been delivered to your address, or anything similar. Do you think now that anyone would really want to see what this mail has to say? Well, the thing is, once you open this mail, you will not find too much useful information. You will be lead to believe that the attached file has all you need to know about the alleged matter. However, opening this attachment is the worst idea ever since it will simply start up this malicious threat and you will not be able to delete Spartacus Ransomware anymore without the possibility of losing your files for good.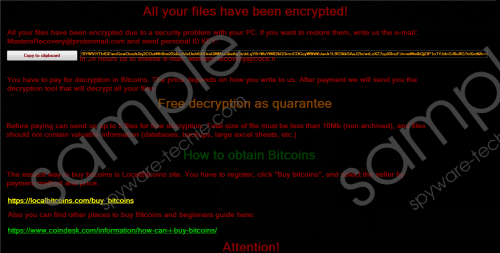 Spartacus Ransomware screenshot
Scroll down for full removal instructions
It seems that this malware infection uses the usual deadly combination of AES and RSA encryption algorithms to encrypt your files beyond repair. The affected files name changes as their extension gets a ".[MastersRecovery@protonmail.com].Spartacus" extra extension, which makes it easier for you to identify the extent of your possible loss. The ransom note is supposed to be named "READ ME.txt" and you may find it on your desktop; although, it is also possible that it may be dropped in all infected folders as well. After the attack is over, the ransom note window blocks your full screen, but it does not actually locks your computer. This infection does not seem to disable main system processes, either. You have to send an email to "MastersRecovery@protonmail.com" or "MastersRecovery@cock.li" (if you do not get a reply within 24 hours after using the former). It seems that the sooner you send this email, to lower the ransom fee is; however, we do not have any specific information about that at this stage, not that we would advise you to pay anyway. In fact, we suggest that you remove Spartacus Ransomware from your PC as soon as possible.
Although the ransom note window covers your full screen, it does not seem to lock it. This means that you can easily move away from it by pressing Alt+Tab. Then, you can close the window or you can also open the Task Manager to kill the malicious process. We have prepared the necessary guide for you below this article. Please follow these steps carefully if you want to remove Spartacus Ransomware from your computer manually. If you do not trust your IT skills, you may want to download and install a reputable malware removal application, such as SpyHunter. We also recommend that you update all your programs and drivers regularly because cyber criminals can find ways to exploit outdated software bugs to access your system and to infect it with dangerous malware programs or simply steal sensitive information from you. Without proper protection your computer is like an open door for crooks.
Remove Spartacus Ransomware from Windows
Launch your Task Manager by tapping Ctrl+Shift+Esc.
Click on the malicious process and click End task to kill it.
Exit your Task Manager.
Tap Win+E to launch File Explorer.
Find and delete the malicious .exe file that you saved. (Check all default download folders for any suspicious files and delete them all.)
Delete "READ ME.txt", the ransom note file (it may be on your desktop).
Empty your Recycle Bin.
Reboot your PC.
In non-techie terms:
Spartacus Ransomware is a new threat to your important personal files. If this ransomware manages to infiltrate your system in a spam email, you can say goodbye to your files very soon afterwards. This malware infection seems to use the AES and RSA encryption algorithms, which are both built-in in your Windows operating system. Although these attackers offer you a way out if you send them an email and pay a certain amount of money, our researchers are not convinced that this is the right way to go about it. In fact, there is no guarantee that you will get anything in return for your money. Therefore, it is important that you remove Spartacus Ransomware from your computer as soon as you can. It may be best for you to install a proper anti-malware program to take care of all your system security issues automatically.