Do you know what Sound+ is?
Sound+ is a legitimate application that is associated with a number of security issues, and thus it cannot be overlooked. You most probably installed this application on your computer yourself, but you were not aware of what really was going on. Thus, it is very likely that you did not intend to have Sound+ on your computer, and the application simply entered the system together with some other programs. Therefore, it would be for the best to remove Sound+ from your computer, because when a program is unwanted, it is very likely that its presence could prove to be disruptive to your system's security.
Our research shows that Sound+ is somewhat similar to Space Sound Pro. Space Sound Pro is yet another potentially unwanted program that we have dealt with some six months ago. According to our research data, Space Sound Pro is an application that is supposed to improve the playback sound in your speakers or headphones, but most of its other capabilities are unknown. Not to mention that it comes with a limited 30-day trial, and once the trial version has expired, you are expected to pay around $10 for the full version of the program if you want to keep on using it.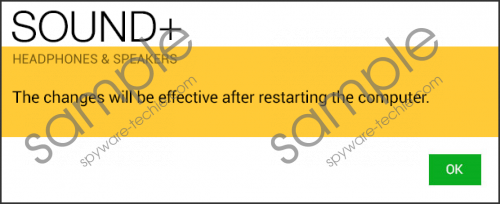 Sound+ screenshot
Scroll down for full removal instructions
Thus, the very same type of behavior can be expected from Sound+ as well. When the program gets installed on your computer, it modifies certain registry entries that are associated with the sound playback. It could be that the Sound+ application does something that allows you to obtain a decent audio only when you use the program itself. On top of that, the application also installs its own auto-run keys, which allows Sound+ to auto-start whenever you turn on your computer. This proves that the program is rather intrusive, especially if you take into consideration the fact that it does not have an official homepage.
This leaves us with only one method of distribution for this application: bundled downloads. To put it simply, Sound+ manages to enter your computer because it spreads bundled with other freeware applications. Freeware packages are widely available for download at various file-sharing websites, p2p and torrent pages, and other places where files can be downloaded for free. This is what pushes users into using file-sharing websites quite often, but there is always a catch to it. When you download from a file-sharing site, there is always a good chance that you will end up installing the likes of Sound+ on your computer, and then you will have many other unwanted programs to deal with.
To sum up, Sound+ is more annoying than dangerous because the program clearly came to your computer uninvited. You should not tolerate such obnoxious nuisances. Remove Sound+ from your system via Control Panel, and then make sure you run a full system scan with a licensed antispyware application. Sound+ might be just one of the many unnecessary applications on your PC, and you clearly need to take care of it at once.
Should you encounter any problems while trying to remove all the unwanted applications, or you need more assistance with ensuring your system's stability, please do not hesitate to contact us by leaving a comment here or in our social networking accounts.
How to Remove Sound+
Windows 10, Windows 8.1 & Windows 8
Press the Windows key + R and the Run command box will open.
Type "control panel" into the Open box and click OK.
Go to Uninstall a program and remove Sound+.
Windows Vista & Windows 7
Open the Start menu and click Control Panel.
Select Uninstall a program and remove Sound+.
Windows XP
Press the Start button and open Control Panel.
Double-click Add or remove programs and uninstall Sound+.
In non-techie terms:
It is very common that users download programs they neither need nor want. Sound+ could be one of such programs. It usually gets installed on your computer when you download some other app from a third-party source. Before this program manages to cause you any trouble, you should do your best to remove Sound+ from your PC. When there is one unwanted program on-board, chances are you have more unwanted apps, too. Therefore, to terminate all the potential threats, you should invest in a licensed antispyware tool right now.