Do you know what Socialnewpagesearch.com is?
Socialnewpagesearch.com is a new malware infection that can put your virtual security at risk. Although we cannot claim that this is a major attack like a ransomware threat would be, this questionable search engine could still cause some problematic issues for you. Our researchers have labeled this infection as a browser hijacker due to its capability to alter certain browser settings, such as the home page. You should know that there could be other malware infections on your system if this one has managed to sneak in. If you do not want to risk the normal operation of your computer, getting infected with more threats, or being scammed by cyber criminals on malicious webpages, you should not hesitate to act. Our researchers suggest that you delete Socialnewpagesearch.com from your browsers and after that, scan your system with a trustworthy malware scanner to see what else is there that could pose a threat to your system security.
Since this search page cannot be found on the web officially promoted as a standalone application, i.e., a browser extension, the only way you could have let it on board is by clicking on a corrupt third-party advertisement. This is possible mostly in two ways. First, you may land on a suspicious file-sharing website while searching for a free file to download and you get exposed to several tricky third-party ads that may drop this browser hijacker along with a number of other threats if you are unlucky enough. This is the case when it is not enough for you to remove Socialnewpagesearch.com, but you also need to eliminate all other potentially harmful applications as well if you want to use a clean and secure computer.
Second, it is possible that there is at least one ad-supported program on your system or any other infection that is capable of displaying third-party content. For example, a browser hijacker could also offer you content that can be corrupted by cyber criminals; therefore, clicking on such search results or advertisements could lead to further infections. As you can see, it is quite possible that if you find this browser hijacker on board, there may be other infections as well threatening your virtual security. That is why we suggest that you act now and remove Socialnewpagesearch.com from your browsers.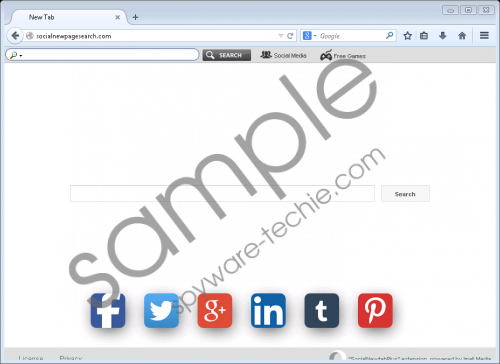 Socialnewpagesearch.com screenshot
Scroll down for full removal instructions
This search engine page offers you a number of easy access buttons and thumbnail links to social media, gaming, sports, and news-related websites as well as web searching features. The worst thing about this browser hijacker that makes it totally unreliable is the search engine itself. This search page may collect information about your online habits to be able to send tailored advertisements to your screen. Since the money this infection makes comes from generating web traffic to affiliated websites, you could be exposed to a number of sponsored links and ads on the search results pages. This is done through a reputable third-party search engine, Yahoo. This means that all your searches are redirected to Yahoo; however, they get a bit manipulated first so that certain ads and links appear among the general results. This can lead to your clicking on unreliable content. You may believe that you are about to see a page with the target of your query, but instead you end up on a fake website operated by cyber crooks. On such a page, for example, you may be asked to disclose your credit card details and personal information in the belief that you are buying a product for an amazingly low price. If you do not want to be scammed by criminals and lose money and vital personal information to the wrong people, you should delete Socialnewpagesearch.com as soon as possible.
Luckily for you, it is quite an easy task to eliminate this threat source. All you need to do is reset your browsers, namely, Internet Explorer, Google Chrome, and Mozilla Firefox. These are the main affected browsers you need to take care of. If you have never done this before, please use our guide we have included after this article. Hopefully, you understand now the importance of what kind of websites you land on and where you click. But even if you become very careful about these, there is still a chance that a serious threat manages to slither onto your computer. Therefore, we advise you to protect your PC with a decent anti-malware application of your choice.
Remove Socialnewpagesearch.com from your browsers
Internet Explorer
Tap Alt+T and go to Internet Options.
On the Advanced tab, press Reset.
Mark Delete personal settings.
Press Reset and click Close.
Google Chrome
Tap Alt+F and choose Settings.
Click Show advanced settings at the bottom.
Click Reset settings at the bottom.
Press Reset.
Mozilla Firefox
Tap Alt+H and open Troubleshooting Information.
Press Refresh Firefox and click Refresh Firefox in the pop-up.
Click Finish.
In non-techie terms:
Socialnewpagesearch.com is a new annoying browser hijacker that can most likely show up in your browsers after you click on a malicious third-party pop-up advertisement. Being exposed to such an ad could mean that your system is infected with adware programs. Another option is that you have visited questionable websites lately, including freeware, torrent, and gaming pages. This browser hijacker offers you a number of easy-access links and thumbnails that redirect you to social networking pages, free online gaming sites, and more. However, we do not advise you to use or keep this search page in your browsers because it may present to you manipulated and therefore potentially unreliable search results. We recommend that you remove Socialnewpagesearch.com right away. If you are looking for an automated solution, we suggest that you use a trustworthy malware remover.