Do you know what Social Reviewer is?
Social Reviewer is an adware application that comes from a prolific family of similar programs. Most of the programs from this group promise to provide you with some unique function, thus catering to your habits and enhancing your web browsing experience. Unfortunately, these adware applications are double-edged swords that may also lead to severe computer security issues. Thus, it is our duty to suggest that you remove Social Reviewer from your computer right now and never look back. While you are it, you should also scan your PC for other similar applications because it is very likely that Social Reviewer was not installed on its own.
With social networking websites grown to humongous sizes, there are also tons of additional third-party applications that promise to improve the functionality of your social profile. They may also help you find out specific details about your social networking account, and the main website may not offer these functions. However, if you are thinking of making use of Social Reviewer to find out who "unfriended" you on Facebook, perhaps you should stop and think again because no good can come of it. This adware application does not care about improving your online social life. If anything, it only wants to make easy money by pushing you into unfamiliar waters.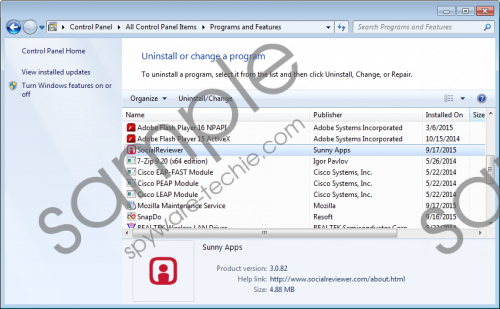 Social Reviewer screenshot
Scroll down for full removal instructions
We believe that Social Reviewer entered your system with a bunch of other unwanted applications. Since it is not possible to download the program directly from its homepage, it is very likely that it was included in a third-party installer you have found on a file-sharing website. Perhaps you were looking for an entirely different program and did not even think that something like Social Reviewer would fall into your basket. Whatever it might have been, now you have this adware program to deal with, and you should not hesitate to get rid of it immediately.
Our tests show that Social Reviewer is based on the Injekt engine, and as such the application falls into the same category as Meteoroids, Blasteroids, Zombie Alert, Zombie Invasion, and many other adware programs created by Ratio Applications, Parallel Lines Development, Time Lapse Solutions, etc. The list may go on forever, but the point is that we have similar apps before and we know that they are of no use. Although it might seem that Social Reviewer could be rather attractive application, the program will only slow down your browser, exposing you to potential threats.
As an adware program, Social Reviewer will definitely monitor your online activity to find out your likes and preferences. Then, before you even know it, it will spam you with third-party commercial ads, trying to make you click. Adware programs need users to click their ads because this is how they generate financial profit. Although the practice itself is not illegal, you can never know who or what will make use of the Social Reviewer advertising network to promote their content. Therefore, it opens a lot of possibilities for malicious exploitation, and if the worst happens, this adware program may lead you to a malware infection.
Avoid that by removing Social Reviewer today. Uninstall the application via your Control Panel, and then do run a full system scan to check for other potential threats.
How to Delete Social Reviewer
Windows 10, Windows 8.1 & Windows 8
Press the Windows key + R and the Run command box will open.
Type "Control Panel" and press OK.
Go to Uninstall a program and remove Social Reviewer.
Windows Vista & Windows 7
Open the Start menu and click Control Panel.
Go to Uninstall a program and remove Social Reviewer.
Windows XP
Click the Start button and select Control Panel.
Navigate to Add or remove programs and uninstall Social Reviewer.
In non-techie terms:
Social Reviewer is a program that should not be allowed to stay on your computer. This application cannot improve your Facebook experience. If anything, it will only expose you to unreliable content via its third-party advertisements. Protect your system from potential threats by removing Social Reviewer right now. For an alternative software removal method, please refer to the secondary set of instructions below. Should you have any security-related questions, do not hesitate to leave us a comment.