Do you know what SmileFiles is?
SmileFiles is a potentially unwanted program that can be used by cyber criminals to distribute computer infections. If you happen to have this application on your system, it would be in your best interests to remove SmileFiles from the PC for good. Although the program cannot inflict much harm on its own, you should consider all the potentially threatening situations that might arise if you have the app on-board. Therefore, the sooner you terminate SmileFiles, the better. And don't forget to run a full system scan afterwards.
If you engage in downloading various files online on a regular basis, it is very likely that you have encountered SmileFiles before. This program is a freeware app that is supposed to help you download anything you want or need. According to our research, SmileFiles is very similar to YourFile Downloader and ExpressFiles potentially unwanted programs. These programs even have websites that share similar layouts. The color theme might be different, but the basic information is practically identical from one website to the other.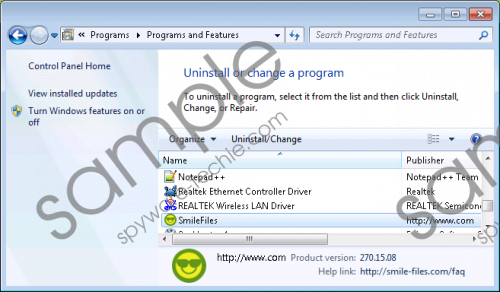 SmileFiles screenshot
Scroll down for full removal instructions
The official homepage for SmileFiles at smile-files.com says that you have numerous reasons to use the application, the first being that the app is "absolutely free." Needless to say, anyone would want to have free programs that provide them with useful functions, but this is exactly where you should stop and give it a second thought. When you are offered a freeware app like SmileFiles, it usually means that the application also supports third-party commercial ads in order to survive. It wouldn't be surprising, because the official website itself is full of in-text ads that try to redirect you to affiliated websites in order to generate traffic and thus make some profit.
What's more, downloading files via SmileFiles is not safe either. Our tests have shown that SmileFiles displays unreliable search results, and clicking some of them might result in download Trojans or other malware files onto your computer. No one wants to have malware on-board, so you need to delete SmileFiles from your system if you want to avoid severe consequences of a malware infection.
Fortunately, you can remove SmileFiles via Control Panel, but don't forget to look for other unwanted applications. Although it is possible to download SmileFiles from its homepage, chances are you have installed the program together with some freeware app you downloaded a third-party file hosting website. As a result, SmileFiles might be just one of the many unwanted programs that are currently running on your system.
Remove them all and then ensure your system is protected from harm by investing in a security application of your choice. If you need any assistance with unwanted software removal, you can always leave us a comment below this description.
How to remove SmileFiles
Windows 8 & Window 8.1
Drag the mouse cursor to the bottom right of your screen.
Click Settings on the Charm bar and go to Control Panel.
Select Uninstall a program and remove SmileFiles.
Windows Vista & Windows 7
Open the Start menu and go to Control Panel.
Click Uninstall a program and remove SmileFiles.
Windows XP
Click the Start button and navigate to Control Panel.
Open Add or remove programs and uninstall SmileFiles.
In non-techie terms:
Removing SmileFiles from your system might not be enough to ensure that your computer is absolutely safe and secure. Do not hesitate to acquire a licensed antispyware tool if necessary. Also, for an alternative software removal method, please refer to the instructions below.