Do you know what SmartShopper is?
SmartShopper is an old adware application from 2007 that may sometimes get installed on user computers. Its main website was located at smartshopper.com, but it has been dead as of January 2013. So even if it had been possible to download SmartShopper directly, it is not the case right now. If you happen to have this application on your computer, you are strongly recommended to remove SmartShopper. Adware programs are not useful. They may not be direct computer security threats, but they are related to specific computer security issues you should not ignore.
Allen says that SmartShopper does not work anymore. It would not be surprising considering that it is an extremely old application. So SmartShopper may not display annoying commercial ads anymore even if it gets installed on the PC, but it does not mean that you should allow this program to remain in your system. For what it's worth, SmartShopper can be a good indicator that you have more than just one adware application on board. Since it is impossible to download this program directly, it is clear that it always comes bundled with other freeware and adware.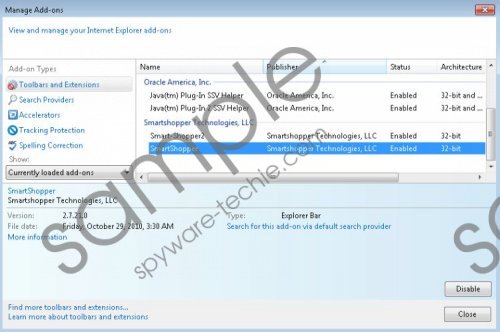 SmartShopper screenshot
Scroll down for full removal instructions
We could say that SmartShopper is a predecessor of many other unwanted applications, because it has been created by the same people who developed Blinx video service, LLC adware applications, Pinball adware (like DealScout or ClickPotato) and so on.
You might say that there is no need to remove SmartShopper because this program does not do anything malicious. It is not true, but at the same time it does not do anything beneficial as well, so there is no need to keep a completely useless application on the PC. In the worst case scenario, SmartShopper might even slow down your system or your web browser, so you should take care of this program ASAP.
Based on our analysis, it is possible to remove SmartShopper via Control Panel. You simply need to uninstall the program and everything should be fine. However, keep in mind that manual removal may not be enough to terminate all the traces of the program. You may also have to remove other unwanted applications that are currently installed on your PC. Therefore, once you uninstall SmartShopper, scan the PC with SpyHunter free scanner and terminate other remaining adware application at once.
Should you have any other questions related to SmartShopper's removal or your computer security in general, you can always leave us a comment.
How to uninstall SmartShopper
Windows 8
Drag mouse cursor to the bottom right of the screen.
Click Settings on Charm bar and select Control Panel.
Go to Uninstall a program and remove SmartShopper.
Windows Vista & Windows 7
Click Start menu button and go to Control panel.
Open Uninstall a program and remove SmartShopper.
Windows XP
Open Start menu and navigate to Control panel.
Select Add or remove programs and uninstall SmartShopper.
In non-techie terms:
SmartShopper is an undesirable application that gets installed onto target computer together with other unwanted applications. You should remove it immediately, and if you are in need of an alternative software removal method, please refer to the instructions below this article.