Do you know what SmartOfferDisplay is?
SmartOfferDisplay is a program that can supposedly provide you with commercial offers matching your interests. The program monitors your browsing sessions, and, once you start searching for some item, it displays similar offers. This is done in order to enhance your shopping experience and help you save money. However, in addition to shopping-related content, you are provided with some irrelevant advertisements, which may offer software, updates, online surveys, computer games, etc. SmartOfferDisplay is not liable for your interaction with third party websites and their ads, which is why we advise you to remove this program from the PC.
SmartOfferDisplay is owned by Lollipop Network and does not create browser add-ons or extensions but runs as a service. Moreover, you can find this program promoted at smartofferdisplay.com, which is the official website of the program. However, at the moment of this writing, the website does not enable you to download any file. The installer for SmartOfferDisplay is accessible on other websites; more specifically, it can be bundled with other programs, and you should be very attentive when dealing with freeware programs.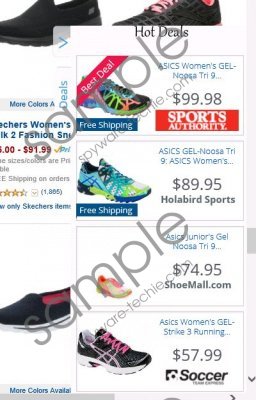 SmartOfferDisplay screenshot
Scroll down for full removal instructions
As mentioned above, SmartOfferDisplay does not accept responsibility for the content delivered to you. Third parties advertised by SmartOfferDisplay have their own privacy policies and terms of use which are not controlled by SmartOfferDisplay. By installing this program, you give SmartOfferDisplay your permission to receive sponsored content and understand that you are responsible for your interaction with third-party websites. When browsing the Internet, you can find numerous unreliable websites, but programs such as SmartOfferDisplay may increase the risk of accessing malicious websites.
Bear in mind that it is not enough to ignore SmartOfferDisplay pop-ups. The program may be recording your clicks, search terms, and other information concerning your online behavior. Such information is collected for the purpose of understanding your interests and enhancing the quality of the service. The fact that you are being monitored by SmartOfferDisplay is one more reason why you should remove SmartOfferDisplay from the computer.
Our step-by-step removal instructions should help you remove SmartOfferDisplay from the computer, but our advice is that you rely on a reputable security program. A malware and spyware prevention program is a great choice if you want to be sure that you can browse the Internet safely. Our advice is that you implement SpyHunter. This program removes SmartOfferDisplay in no time and safeguards the system against different types of malware and spyware.
How to remove SmartOfferDisplay
Windows Vista and Windows 7
Open the Start menu.
Click the Control panel option.
Select Uninstall a program.
Remove the SmartOfferDisplay program.
Windows XP
Open the Start menu.
Click Control Panel.
Select Add or Remove Programs.
Uninstall the unwanted application.
Windows 8 and Windows 8.1
Move the mouse pointer to the lower-left corner of the screen.
Right-click and select Control Panel.
Click Uninstall a program.
Remove the unwanted application.
In non-techie terms:
SmartOfferDisplay is an advertising-supported program, and it starts running once you log on to the computer. We strongly recommend that you remove SmartOfferDisplay using a powerful anti-malware program, so that you do not have to worry about more serious security issues in the future. The following instructions will help you install our recommended security program.