Do you know what SmarterPcSolutions.net is?
SmarterPcSolutions.net is a website that distributes a few potentially unwanted applications. The list of programs includes PC Performer, Driver performer and others. Information at SmarterPcSolutions.net makes an impression that downloading and installing any of the aforementioned programs would be greatly beneficial to your computer system. However, that is highly doubtful as such programs are often listed as potentially unwanted and sometimes even malicious. Stay away from SmarterPcSolutions.net, and remove all the programs you have downloaded from the website right now (if any).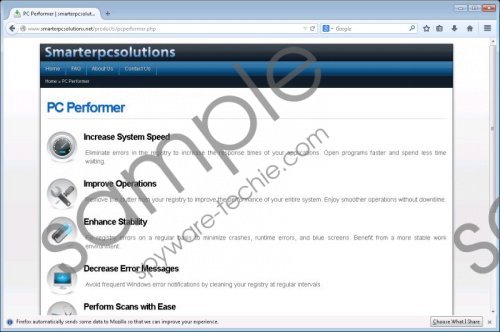 SmarterPcSolutions.net screenshot
Scroll down for full removal instructions
It is clear why users are often lured into trusting SmarterPcSolutions.net. For example, if we were to take a look at PC Performer's description, we would see that this program presents itself as a useful application that can increase your system speed, improve computer operations, enhance stability, decrease error messages and even improve system scan speed. SmarterPcSolutions.net promotes other programs on the site in a very similar manner. Nevertheless, you should think twice before downloading any program from SmarterPcSolutions.net because they might come bundled with additional unwanted applications that in the long run could slow down your computer, and expose you to potential malware threats.
In general, computer security specialists and our research lab team strongly oppose the utilization of computer system optimization tools. Such programs might promise one thing, but in the end they seldom can improve your PC's speed. Most of the time, programs from SmarterPcSolutions.net detect non-existent errors or label temporary files as potential system threats. This is how PC Performer and other unwanted applications try to push unsuspecting users into purchasing the full version of a program that, more often than not, cannot even live up to its promises. In other words SmarterPcSolutions.net simply tries to litter your system with a number of unnecessary programs in the attempt to make easy money. You should refrain from purchasing anything promoted at SmarterPcSolutions.net.
If you ended up installing one of the SmarterPcSolutions.net programs, do not be surprised to see that your homepage gets changed as well. It is very common that PC performer and other unwanted applications modify browser settings, and constantly display pop-ups and commercial advertisements. You can revert your browser settings by removing unwanted programs via Control Panel, and then changing the settings manually.
We provide comprehensive unwanted software removal guide below this description. Take note that removing unwanted programs manually may not do the job to the fullest; hence, you should consider investing in a powerful antispyware tool. A computer security program of choice will help you safeguard the PC against any potentially unwanted and dangerous intruders.
How to remove unwanted programs
Windows 8
Drag mouse cursor to the bottom right of your screen.
Click Settings on Charm bar and go to Control Panel.
Select Uninstall a program and remove unwanted applications.
Windows Vista & Windows 7
Open Start menu and click Control Panel.
Go to Uninstall a program and remove unwanted apps.
Windows XP
Press Start menu button and click Control Panel.
Select Add or remove programs and uninstall undesirable applications.
How to restore my homepage
Internet Explorer
Press Alt+T and click Internet options.
Under General tab click Use default button.
Press OK.
Mozilla Firefox
Pres Alt+T and go to Options.
Under General tab click Restore to Default button.
Click OK.
Google Chrome
Press Alt+F and click Settings.
Select Open a specific page or set of pages under On Startup.
Click Set pages and change your homepage address.
Click OK.
You may also try out the removal instructions below if you want to get rid of all the potential threats through and through.
In non-techie terms:
You should steer clear from SmarterPcSolutions.net because this website promotes a lot of unwanted and potentially detrimental applications. If you have installed a program from this site, you have to remove it immediately.