Do you know what Smart-SaverPlus is?
Smart-SaverPlus is an advertising-supported application that claims to be able to save your time and money. In order to do that, it will provide you with coupons, discounts and even similar products that are available during the time of shopping online. As you might have probably already understood, all of them will mostly appear on different online shopping websites like amazon.com, ebay.com, and bestuy.com. However, not everything is so perfect about Smart-SaverPlus. It has been found out that it is going to display all those coupons, deals, and probably other advertisements without your permission and they are so intrusive that you will not be able to browse the web freely. We believe that there is no point in keeping Smart-SaverPlus ads on your PC because this program is no as useful as it states to be.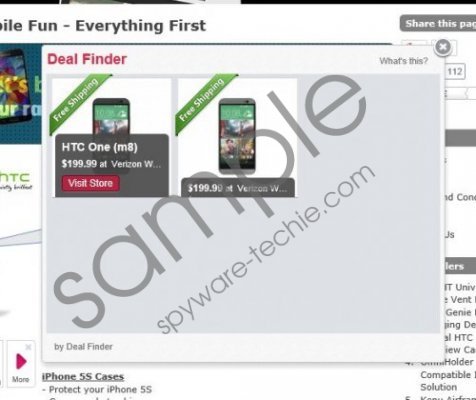 Smart-SaverPlus screenshot
Scroll down for full removal instructions
As this program is going to display you different kinds of advertisements on various websites, it can be classified as an advertising-supported application. Most of these programs are not harmful themselves; however, the advertisements that they tend to display are rather dangerous in a sense that they might lead you to potential threats. It is not a difficult process and it happens when a computer user clicks on any of the advertisements because Smart-SaverPlus will redirect him/her to other websites that might be unreliable. It is not a difficult process to infect the system on such unreliable websites, which is why you should better not click on them.
As other similar applications based on the same Crossrider engine, Smart-SaverPlus usually comes bundled with other programs like Plus-HD, Search Protect and Storm alerts, which mean that there is no need to download it yourself in order to notice its presence on your PC. However, the biggest possibility to encounter this program is if you are living in Canada, USA, UK, Germany, and France. Of course, you should be careful if you are not living in the aforementioned countries as well.
Of course, it is your choice whether to leave Smart-SaverPlus on your system; however, you should know that you will not be able to stop it in any other way. It means that the removal is the best solution. If you are not aware of how to do that, you can follow the instructions that we have provided for you below. Another variant is to let an automatic tool its job. However, you should know that it must be reliable.
How to remove Smart-SaverPlus
Windows XP
Open the Start menu.
Select Control Panel.
Click Add or Remove Programs.
Select the undesirable software and click Remove.
Windows 7 and Vista
Click the Start button.
Select Control Panel from the Start menu.
Click Uninstall a program.
Right-click on Smart-SaverPlus and then select Uninstall.
Windows 8
Access the Metro UI menu.
Start typing Control Panel and then select it.
Click Uninstall a program.
Select the application and then erase it.
In non-techie terms:
You should avoid advertising-supported applications because they not only show different kinds of advertisements that might cause some problems, but also are known to be able to collect information associated with your activities on the web. It means that the websites which you visit, your search queries, and other relevant data is known for the publishers. If it seems unacceptable, remove the adware program as soon as possible.