Do you know what Smart Fortress 2012 is?
Smart Fortress 2012 is a dangerous computer application that has been created to damage your system and steal your money at the same time. It belongs to the same nest of rogues as Smart Protection 2012 and Personal Shield Pro. The relation between these rogues is obvious because of nearly identical user interface. Since new rogues like Smart Fortress 2012 keep on appearing now and then, one can infer that creating rogue antispyware is a lucrative business and a lot of users worldwide get tricked every single day.
The reason why so many users fall into this trap is because Smart Fortress 2012 does resemble a computer safeguard program and it usually utilizes fake online malware scanners to get into the target computers. For example, if a user encounters a fake online scanner, the scanner notifies him or her of "suspicious" activity in the user's computer. Then the user is urged to download Smart Fortress 2012 to perform a full system scan and make sure that nothing is wrong. However, once you download and install Smart Fortress 2012 onto your computer, everything goes awry.
Smart Fortress 2012 blocks your programs from running and bombards you with dozens of fake security notifications, such as:
Warning: Your computer is infected
Detected spyware infection!
Click this message to install the last update of security software...
Security Monitor: WARNING!
Attention! System detected a potential hazard (TrojanSPM/LX) on your computer that may infect executable files. Your private information and PC safety is at risk.
To get rid of unwanted spyware and keep your computer safe you need to update your current security software.
Click Yes to download official intrusion detection system (IDS software).
None of these notifications are real, because Smart Fortress 2012 does not have an ability to detect or destroy computer threats. It is a dangerous threat itself, so you have to do everything you can in order to get rid of Smart Fortress 2012. It might be frustrating with your programs constantly blocked, so feel free to use this activation key to "register" the rogue:
AA39754E-715219CE
Just click on the "registration" icon and enter the code. This way Smart Fortress 2012 will think that you have purchased the license for it, and will make it seem as if it removed all types of malware and your computer is clean again. That is definitely not true and you must terminate Smart Fortress 2012 as soon as you can. Do not wait any longer, if you cannot deal with this rogue on your own, invest in a powerful security tool that will do the job for you.
In non-techie terms:
Smart Fortress 2012 is a dangerous rogue antispyware application that poses as a computer security application while in fact it causes detrimental damage to your system, while trying to rip you off. Remove Smart Fortress 2012 immediately and save your computer from ultimate doom.
Aliases: SmartFortress2012.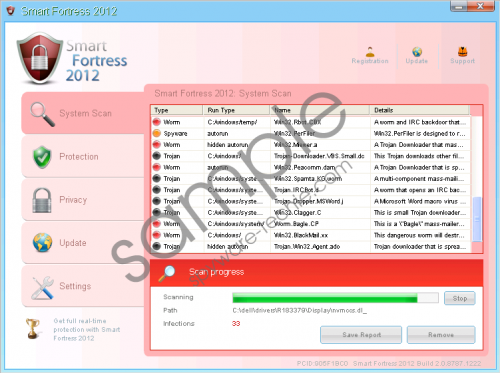 PDATE
There is no doubt that Smart Fortress 2012 is a malicious application, and one more way to recognize its fictitiousness is by examining suspicious rogue's features. First of all, it is highly unlikely for any software to be sold for such low prices:
Order Details
Choose your subscription type:
1 Year Software License
29.95 USD
3 Year Software License
39.95 USD
Lifetime Software License, 60% discount
49.95 USD
Moreover, it is precarious that Smart Fortress 2012 purchase page only accepts Visa owners, and respectable software vendors accept a much bigger range of popular credit cards!
See additional Smart Fortress 2012 warnings, you will not be able to remove from your personal computer's screen:
Warning!
Application cannot be executed. The file notepad.exe is infected.
Please activate your antivirus software.

Smart Fortress 2012 Warning
Intercepting programs that may compromise your privacy and harm your system have been detected on your PC.
Click here to remove them immediately with Smart Fortress 2012
Warning! If you want to remove Smart Fortress 2012 manually, ensure you use help of an expert, who has deleted malware in the past. If you cannot use services of such experienced Windows users, install legitimate software, which will remove Smart Fortress 2012's files in no time.