Do you know what Skymonk is?
There is no doubt that Skymonk is a popular program because it promises to help download files from sms4file.net, letitbit.net, shareflare.net, and similar file-sharing websites. The built-in file manager is meant to offer you the best services; however, you may feel disappointed by the application if you discover various unfamiliar programs installed alongside. You certainly should delete Skymonk related programs which you do not trust and which you did not agree to install. Even if they are harmless, you certainly should not run them without doing a little bit of research first. Note that there is always a chance that additionally installed software is not as reliable as it may seem at first.
Even though Skymonk is not considered to be malicious, we categorize it as a potentially unwanted program (PUP) because it comes bundled with this kind of programs. If you do not want to acquire them, make sure you act cautiously as soon as you click the Download button on skymonk.net. If you do not pay attention and do not reject the additionally offered programs, you may discover Remark-it, Mobogenie, Adware.GreyGray, Surftastic and similar programs installed onto the computer. Some of these you may discover within the Extensions lists of your Google Chrome, Internet Explorer and Mozilla Firefox browsers. Without a doubt, you should be cautious about these plugins. For example, Surftastic can display various pop-ups whenever you browse the web. Note that this is not only irritating but also could expose virtual security vulnerabilities.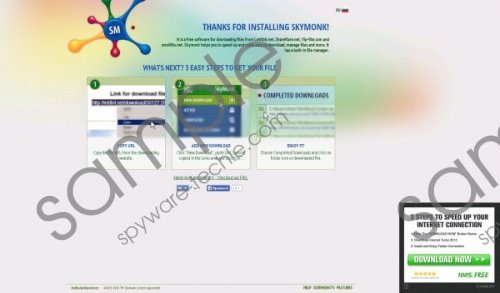 Skymonk screenshot
Scroll down for full removal instructions
You do not need to remove Skymonk in order to delete the undesirable plugins and to stop the annoying online advertisements. Nonetheless, you certainly should not hesitate about the removal of the program if you do not want to keep it running on the operating system. Follow the manual removal instructions below to have all undesirable programs deleted from the PC. If any of them continue running, install automatic malware detection and removal software to make sure that all potentially malicious threats are eliminated as well.
Skymonk Removal
Remove from Windows XP:
Open the Start menu and click Control Panel to access a new menu.
Double-click Add or Remove Programs to find the installed applications.
Click the undesirable program and select Remove.
Remove from Windows Vista/Windows 7:
Navigate to the left of the Task Bar and click the Start menu icon.
Select Control Panel and then Uninstall a program.
Locate the application you want to have deleted, right-click it and select Uninstall.
Remove from Windows 8:
Access the Metro UI menu, right-click on the background and select All apps.
Go to Control Panel and then click Uninstall a program.
Right-click the application you wish to delete and select Uninstall.
In non-techie terms:
Skymonk is a program which aids such file-sharing systems as letitbit.net, shareflare.net, vip-file.com and sms4file.net. Even though the program is not malicious, it travels bundled with various suspicious applications which you can delete from the computer using the manual removal instructions above. Please make sure that automatic malware removal software is installed to keep the operating system guarded after you get rid of all undesirable programs.
Aliases: Skymonk.