Do you know what Sitesimple Ads are?
Sitesimple Ads are pop-up coupons, pop-up advertisements and web banners displayed by Sitesimple, which is a free browser add-on that works on Internet Explorer, Google Chrome and Mozilla Firefox. The application is available at sitesimple.co, which is very similar to the websites of other free browser plug-ins such as WebSpades, BrowseMark, and Blarble. All these applications, including Sitesimple, are categorized as adware programs and can be removed from a computer by powerful security tools.
Like other free programs, Sitesimple can be bundled with other free programs, so, if you want to be certain that you install only those programs that you want to have installed, always pay close attention to the information provided by the installation wizard. When you are provided with a recommendation to install an unwanted program, do not hurry to approve the installation. First make sure that the program is reliable and when act accordingly. In case you are already dissatisfied with Sitesimple, do not hesitate to remove it from the PC.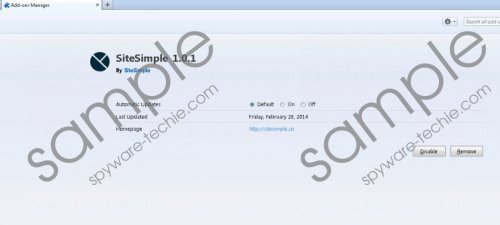 Sitesimple Ads screenshot
Scroll down for full removal instructions
Sitesimple Ads are displayed on basically every website. When you access a shopping website, you are provided with coupons; moreover, some web banners may be displayed at the bottom of the page. The adware program is supported by many advertisers, which means that some of the advertisements displayed may have nothing in common with your search queries. Sitesimple Ads may invite you to take part in a survey, to update a computer application, to visit some commercial websites, and so on. Sitesimple is not liable for the content of the third parties' websites advertised and does not monitor third parties' activities, which means that you interact with all Sitesimple Ads advertisements at your own risk. It is highly advisable to ignore advertisements that recommend that you update your Internet browsers, media player, or some other application because the odds are that you may be provided with a bundled installer, which may provide you with unreliable applications.
Sitesimple may also monitor you. It may record your search terms, browsing history, clicks, impressions, and other non-personally identifiable information. The same anonymous information may be collected by the third parties that you access through Sitesimple Ads. Usually, this type of information is used for advertising and marketing, and you may soon find that you are provided with targeted advertisements.
In order to remove Sitesimple Ads from the browsers, we recommend that you implement a spyware removal tool. It is not a secret that you can uninstall the program; however, a reputable spyware removal can both remove the adware program and safeguard the system against various computer threats. Install SpyHunter if you want to have Sitesimple Ads terminated and the system protected against multiple computer threats.
How to get rid of Sitesimple Ads
Windows Vista and Windows 7
Open the Start menu.
Click Control Panel.
Select Uninstall a program.
Remove the unwanted application.
Windows 8
Press Win+R and type in control panel.
Click OK.
Select Uninstall a program.
Remove Sitesimple.
Windows XP
Press Start.
Click Control Panel.
Select Add or Remove Programs.
Uninstall the unwanted application.
Remove the adware program.
In non-techie terms:
Sitesimple Ads are pop-up advertisements which you should ignore if you want to avoid adverse consequences, such as data loss and slow PC speed. Sitesimple Ads may redirect you to unreliable websites; hence, it is advisable to remove Sitesimple Ads from the PC. To do so, follow the above-given instructions of implement a spyware removal tool.