Do you know what Siteken.com is?
If you have experienced sudden changes of default settings within your web browser, it could be that a browser hijacker called Siteken.com is responsible for that. If this is actually the case, you should be aware that the removal of this malicious hijacker is a must. This is so because we have discovered that the hijacker in question will make your online experience a bothersome one, to say the least. Usually, users get their PC infected with because they often lack knowledge about basic virtual security. If you wish to avoid getting your PC infected with this or any other Internet-based infection read the rest of this article because we will provide virtual security tips. Additionally we provide a detailed removal guide that is easy to follow and so it will help you delete Siteken.com in a quick and easy way.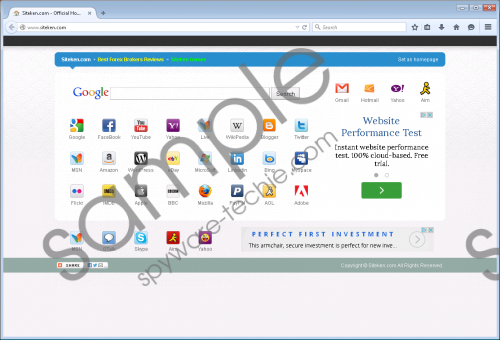 Siteken.com screenshot
Scroll down for full removal instructions
In most cases, Siteken.com will act almost as soon as it is up and fully running on your PC. It is important to note that browsers such as Internet Explorer and Mozilla Firefox are affected by this Internet-based infection. Once this malicious hijacker is installed, your default homepage and search engine will be altered. These changes will be made without any authorization, which is annoying, to say the least. What is even worse is that these changes will make browsing the web a miserable experience. This is so because you will need to use the new, unwanted search engine provided by this infection as well as you will be forced to start all your browsing sessions on a suspicious third-party website.
If that was not enough, our research team has found out something alarming about the malicious hijacker. You are advised to avoid using the malicious search engine since it is known that the results provided could be implemented with redirect links meaning that you could be taken to dubious third-party websites. For instance, you might be redirected to a site with an active arbitrary code execution exploit. This is dangerous since just entering such a website is more than enough to get your PC infected. To stop the invasive activity and to avoid getting your PC infected with some unknown malware make sure to conduct a complete Siteken.com removal immediately.
In order to protect your PC from Internet-based infections like Siteken.com, you need to implement a reliable malware detection and removal tool without any hesitation. Such a tool is the best way to ensure your virtual security since it would warn you about any infectious applications beforehand. You are also advised to avoid various third-party download websites because they are infamous for providing bundled installers, which are known to be the primary source of dubious programs. By practicing safe browsing habits along a professional antimalware tool, you will make your PC virtually unbreakable.
The removal of Siteken.com should not be delayed since there are obvious virtual threats that this hijacker imposes. Make sure to remove this hijacker completely as even a few leftover files or registry entries could be used to restore this invasive application. This is the reason you are advised to conduct an analysis of your operating system to make sure that every single bit of Siteken.com was removed successfully.
How to remove Siteken.com from your PC
Instructions for users of Internet Explorer
Open your browser.
Simultaneously tap Alt+T.
Select Internet Options and open the Advanced tab.
Click Reset.
Check Delete personal settings.
Click Reset again.
Instructions for users of Mozilla Firefox
Launch your browser and tap Alt+H.
Select Troubleshooting information.
Click Reset Firefox.
Click the Reset Firefox button again to confirm the process.
In non-techie terms:
If you think that manual removal is too much for you to handle since you lack computer knowledge make sure to follow the instructions provided below. They are easy to follow and will help you delete this browser hijacker in an automatic way.